Some Like It Hot
A trip to one of these locales is a sure-fire way to add a spark to your new life together.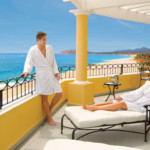 Heat up your honeymoon with a visit to one of our hottest honeymoon destinations—places that will ensure you won't have to wear any more clothes than you want to for a week or more. Choose one close to home, from a trio of elegant Florida resorts, or spread your wings and head for one of our overseas—but not too far away—favorites.
Biltmore Hotel
Coral Gables, FL
All photographs provided by Biltmore Hotel
Opened in 1926 as the centerpiece of the burgeoning new upscale resort town of Coral Gables, just south of downtown Miami, the Biltmore (biltmorehotel.com) was an icon of the Jazz Age. Hollywood celebrities, European royalty, the notable and the notorious all flocked to the grand Mediterranean-style resort. There are photos of 1928 presidential candidate Al Smith playing golf with Yankees legend Babe Ruth, and the hotel was a favorite of both President Franklin Roosevelt and gangster Al Capone.  A clandestine speakeasy/casino operated on the upper floors during Prohibition. Johnny Weissmuller was a swimming instructor at the Biltmore before he became an Olympic champion and Hollywood's best-known Tarzan. The hotel underwent a $40 million renovation in the 1990s; today it has style to spare. It's also just a few blocks from the Coral Gables Miracle Mile shopping district—Miami's Rodeo Drive—and a few minutes from hip and hedonistic South Beach. It has everything you'd expect from a high-end resort—award-winning dining, a world-class spa, a huge pool/cabana area and gracious service—and a throwback atmosphere that can't be duplicated. For the fall season, rooms range from $366 per night for a standard room up to $816 for a two-bedroom suite, or $2,556 nightly for the hotel's landmark Everglades Suite. There are discounts for booking early.
---
The Breakers
Palm Beach, FL
Photograph​ provided by The Breakers
Modeled after the Medici family villa in Rome, the current main building of The Breakers (thebreakers.com) opened in 1926 after a fire destroyed the wooden hotel that had stood on the spot since 1896. The Breakers' architecture and ambiance are a throwback to the Golden Age of the 1890s, with painted ceilings created by Italian artisans supported by massive sculpted columns. The resort is beachfront, on 140 acres on the island of über-chic Palm Beach, so the atmosphere doesn't get much tonier. There's a beach club, private beach bungalows (with concierge), nine restaurants, five pools, a large spa, a Rees Jones golf course and other diversions. To give you the flavor, the on-site boutiques include Guerlain, Ralph Lauren and Lilly Pulitzer. Rates start at $279 a night through Sept. 30, and $329 a night beginning Oct. 1.
---
Ponte Vedra Inn & Club
Ponte Vedra Beach, FL
Photographs provided by Ponte Vedra Inn & Club
As the 1920s roared into Florida, producing the celebrated land boom, the owners of a choice stretch of pristine beachfront just south of Jacksonville built an elegant boutique resort called the Ponte Vedra Inn (pontevedra.com). The hotel has been expanded over the years—it now has more than 250 rooms, many oceanfront as well as those in the historic inn. And amenities include one of the best tennis facilities in the United States and a 30,000-square-foot spa. There are two golf courses, the more famous being the 1928 Lagoon course designed by famed British golf course architect Herbert Strong and later updated by Robert Trent Jones and Bobby Weed. Pick an oceanfront room if you want to look out over the surf from your balcony, but before you do, consider the gorgeous marble-and-wood-decked rooms in the historic inn. The service at this AAA Five Diamond resort is impeccable, and many of the staff are the children and grandchildren of those who have worked at the inn. Rates start at $262 a night in the fall months.
---
Silk Cotton Villa
St. Thomas
Photographs provided by Silk Cotton Villa
Named for the giant kapok (silk cotton) tree on the grounds, Silk Cotton Villa (silkcottonvilla.com) is a spectacular rental home with a spectacular view. Clinging to the side of Mafolie Hill overlooking Charlotte Amalie Harbor, the 7,800-square-foot, four-bedroom home offers a 180-degree panorama from the pool and sun deck. Architecturally, the Villa is exceptional. It's built of "blue bitch," a hard volcanic stone used by the Danes to create many of the island's historic buildings. The Villa is wide, but not deep from front to back. All of the living spaces open onto the pool, which overlooks the cobalt-blue harbor. Between the rooms and the pool deck is a series of arches, the opening of which can be covered by screens or electrically operated shutters. At the touch of a button, you can shut out the world or open the whole house to that killer view.  You won't need a passport to visit here (St. Thomas is part of the U.S. Virgin Islands). Villa rental rates start at $3,640 a week. A five-night minimum rental is required May 1-Dec. 16; seven nights, Dec. 17-April 30.
---
El Conquistador Resort & Las Casitas Village
Puerto Rico
Photograph provided by El Conquistador Resort & Las Casitas Village
Now operated by Waldorf Astoria, El Conquistador Resort (elconresort.com) has been a luxury standard bearer for more than two decades. Located on a high cliff overlooking the Caribbean, it has every amenity imaginable—seaside golf, first-class spa and cuisine by an internationally renowned chef.  Las Casitas Village (lascasitasvillage.com), part of the El Conquistador property, is a resort within a resort, with individual villas perfect for honeymooners. The resort is in Fajardo, about 45 minutes southeast of San Juan. That puts it less than an hour from the island's main international airport and about a half-hour from El Yunque, a subtropical rainforest that is part of the U.S. National Park System. Because Puerto Rico is a U.S. territory, you won't need a passport (though it's always recommended to carry one if you have it) and there are direct flights from Orlando to San Juan daily. Rates range from approximately $299 per night for an ocean-view room at El Conquistador to $1,009 a night for a three-bedroom casita at Las Casitas Village.
---
Roaring Pavilion
Ocho Rios, Jamaica
Photographs provided by Roaring Pavillion
Roaring Pavilion is a luxury rental home located on a beachfront estate where the Roaring River meets the Caribbean Sea in St. Ann's Bay, Jamaica, near Ocho Rios. The villa's beach is known as James Bond Beach, the location for the classic scene from Dr. No where 007 (Sean Connery) greeted a bikini-clad Bond girl (Ursula Andress) emerging from the surf. The 5,000-square-foot home is lavishly appointed and offers a staff of nine,  an on-site spa, private beach, pool and much more. The rental agent, Villas by Linda Smith (jamaicavillas.com), has several dozen villas in a variety of price ranges in the best locations in Jamaica—Montego Bay, Oracabessa, Discovery Bay and Negril. Roaring Pavilion is toward the top of the menu, price-wise, checking in at $26,600 per week in low season while Almond Hill, in Montego Bay, is a bargain at $3,000 a week in low season, which runs until Dec. 14.
---
Dreams Resort & Spa
Los Cabos, Mexico
Photograph provided by Dreams Resort & Spa
Want to honeymoon in warm weather somewhere other than the Caribbean without flying for a full day to the South Pacific? Los Cabos, located on the southern tip of Mexico's Baja California Peninsula, has the heat and the Pacific Ocean. Dreams Resort & Spa (dreamsresorts.com), an all-inclusive AAA Four Diamond beachfront resort, has every imaginable amenity—spa, golf, deep-sea fishing, multiple restaurants and pools. It is minutes from San José del Cabo, a town founded by Jesuit missionaries in 1730. The brilliant white cathedral still presides over the town's main square, with pastel-colored houses crowding narrow streets punctuated by small cafés, restaurants and shops.  Party city Cabo San Lucas is right next door if you're looking for something a bit more lively. Rates start at $318 a night for a junior suite and range up to $1,258 nightly for the presidential suite. Winter is the slow season in Los Cabos, and the resort's lowest rate in November is $464 nightly.
---
Kura Hulanda Resorts
Curacao
Photograph provided by Kura Hulanda Resorts
There is no other hotel like the Kura Hulanda (kurahulanda.com)—anywhere. It is spread over an eight-block area in this tiny Caribbean island's historic capital, Willemstad. The site was purchased and turned into a hotel/entertainment district with multiple restaurants, pools, a casino and spa, all in a European-style village. There's a beach club as well as a world-class anthropological museum within the development, which has been designated a World Heritage Site by UNESCO. The resort's 80 rooms are scattered throughout the site in historic buildings, and rates range from $150 a night up to $500 a night for a one-bedroom suite or $795 a night for the presidential suite through the end of December. The hotel also has an elegant oceanfront hotel nearby and offers a package with two nights in the Kura Hulanda Hotel and three nights at the Beach Club.