Orlando Food Adventure: Odds & Sods
An all-new lineup of culinary oddities, unique finds and hidden gems. Our dining critic journeys into the bizarre, healthy, spirited, "who knew" and just plain cool and delicious.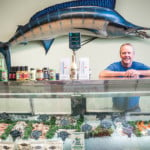 SunRail Expedition | Adventurous Combos | Unexpected Discoveries | Odds & Sods | Sweet Exploits | Festival Forays | That's the Spirit | Uncommon Road Trips | Spotlights
Pasta Snacks
Windermere
Windermere resident Jerry Bello makes chips out of baked pasta, flavored with sauces and cheese, and seasoned with rosemary and garlic. pastasnacks.com
---
Ken's Amish 
Market & Deli
Downtown Mount Dora
Ken Gillette opened a version of his market more than 15 years ago. There have been several name and format changes, but he still sells Cincinnati chili (that's the kind on spaghetti); coffee from Old Florida Roasters in Sarasota; Wisconsin cream puffs; substantial breakfasts and sandwiches (including the elusive Lebanon bologna); in-house baked breads and pies; and canned goods from Ohio's Amish Wedding Foods (love that FROG jam). kensamishmarket.com
---
Yaupon Brothers
 American Tea Co.
Edgewater
Brothers Bryon and Kyle White rediscovered the 100+ year-old tradition of teas made from the yaupon holly, a Southern native with a remarkably high caffeine content once used by the Timucua people. Available in fire roasted, lavender coconut, traditional green and a "Tranquili-tea" blend of yaupon and Florida hops. yauponbrothers.com
---
Lighthouse Seafood
Lake Mary
Tim, Heather and Danny O'Leary have fraternized local fisherpeople since 2003 to stock their market with the day-boat fresh, and often neglected, hyper-local catch for which they're justly famous. Their fresh haddock, shrimp and mussels show up on the menu at Hunger Street Tacos and other Orlando eateries. Boat captain brother Danny runs a Lighthouse location in a converted barn in The Villages; Mom makes Key lime pies. lighthouse-seafood.com