Orlando Food Adventure: A Station-By-Station SunRail Guide
An all-new lineup of culinary oddities, unique finds and hidden gems. Our dining critic journeys into the bizarre, healthy, spirited, "who knew" and just plain cool and delicious.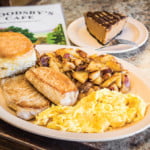 SunRail Expedition | Adventurous Combos | Unexpected Discoveries | Odds & Sods | Sweet Exploits | Festival Forays | That's the Spirit | Uncommon Road Trips | Spotlights
The 49 miles of SunRail track (so far) with 16 stations through four counties gives a seldom-seen excursion through the heart of Central Florida. Day-trippers sitting back in a top-deck seat can catch high-vantage views of crude graffiti tags as well as intricate mural art; back ends of warehouses and backyards of suburban houses; graveyards of corroded cars and of the dearly departed; used-appliance stores; and churches large and small. As the cheerful trains carry workers to resort area hotels and mothers holding babies singing "choo choo,'' the path unveils some good and interesting tastes of our culinary scene. Each station along the ride has a nearby opportunity to grab a snack or a meal (some nearer than others). What follows are the closest walkable (usually) places worth your attention. While the full-day SunRail journey might be a stretch, riding the dinnertime rails from Longwood to Kissimmee, for example, is a pleasant and relaxing trip. Snacks, unfortunately, are not permitted on a SunRail train itself.
---
Poinciana 
Station
5025 S. Rail Ave., Kissimmee
Woodsby's Countryside Café
1.5 miles away
Family-owned Woodsby's has been in business for 18 years, living up to its slogan, "Good food and lots of it," with very large portions filling the dinner plate or breakfast table (like "Danny's Favorite": two hand-cut boneless pork chops, eggs, home fries and a huge biscuit for under ten bucks), plus homemade pies. Lynx also runs a direct bus from the Poinciana station to the joys of Disney Springs. If you're heading over to Woodsby's, however, best to call an Uber. woodsbyscafe.com
---
Kissimmee
Station
320 Pleasant St.
3 Sisters Speakeasy
0.1 miles
The sophisticated 3 Sisters, open for lunch and dinner, comes complete with the Red Shoe Martini bar next door. The name is not a sly reference to Chekhov but a whimsical story about a Prohibition-era family. The speakeasy offers interesting takes on sushi, tacos, steaks and burgers, along with live entertainment and trivia nights. A free connector from the Kissimmee station also moves passengers throughout downtown Kissimmee. 3sistersspeakeasy.com
---
Tupperware
Station
3205 Orange Ave., Kissimmee
Tu Cocina Latina
400 feet
At this Latin café, Chef Carmen Santana celebrates the foods of the Dominican Republic and Colombia, from huevos pericos for breakfast to the steak, rice, beans, pork and plantain-laden bandeja paisa for dinner. tucocinalatina.net
---
Meadow Woods Station
120 Fairway Woods Blvd., Kissimmee
Azteca D'Oro
2.6 miles
Meadow Woods is a commuter station earmarked as a future hub connecting the coming Virgin Trains service from Miami to SunRail via the airport. So, for now, there isn't much within walking distance to attract the culinary tourist. The local presence of the Azteca D'Oro chain, which spreads from New Smyrna Beach to Winter Haven, makes a small side trip worthwhile with a full range of Mexican dishes (caldo 7 mares, a well-stocked seafood soup, is recommended). aztecadoro.com
---
Sand Lake Road Station
8030 S. Orange Ave., Pine Castle
The Steer
0.2 miles
This "Florida cracker steakhouse" from the owners of Fish On Fire and Dancing Pigs Deli is big on steak (like a 36-ounce Porterhouse) and house-made Florida strawberry shortcake. orlandosteer.com
---
Orlando Health Station
250 Columbia St.
Orlando Brewing
0.2 miles
The 17-year-old brewery, one of the originators of the local craft beer movement, is just a short walk away, and you deserve an on-tap, organic microbrewed pint of the award-wining O-Town Brown Ale. orlandobrewing.com
---

(ROBERTO GONZALEZ)
Church Street
 Station
99 W. South St.
Technically, the closest food is Pepe's Cantina on Church Street (160 feet), but of course you can stroll to Artisan's Table for a delightful Japanese breakfast bowl of eggs and sticky rice in the morning; the high-end Kres Chophouse for their much-lauded filet Wellington for dinner; grab an alcoholic milkshake at Wahlburgers; or hop on the free Orange or Grapefruit Lymmo lines to the other pleasures of downtown Orlando.
---
AdventHealth
Station
500 E. Rollins St.
Cindy's Cuban Café, one minute away, is open on weekdays (just like SunRail!) for breakfast and lunch. Cindy's slow-roasted pork loin makes a fine medianoche sandwich. Across the tracks is Downtown Credo for single-source espresso. cindyscubancafe.com; downtowncredo.com
---
Winter Park
Station
148 W. Morse Blvd.
From Turkish delights at Bosphorus just across Park Avenue, to Orchid Thai a quick walk north and BurgerFi three short blocks south, there's no shortage of dining options.
---
Maitland
Station
801 N. Orlando Ave.
Kappy's Subs
0.3 miles
Kappy's hasn't changed much (aside from owners) since it opened in 1967 inside a Depression-era Valentine diner. Park yourself at a picnic table and savor cheesesteaks, hot dogs and the roadside atmosphere. kappyssubsfl.com
---
Lynx Central
Station
101 W. Livingston St.
There are all-day burgers, beer and entrees (Bat Outta Hell Meatloaf) at Ace Café across the street; and superior fine dining (house-made terrines) at DoveCote Brasserie down the block. acecafeusa.com; dovecoteorlando.com
---
Altamonte Springs 
Station
2741 S. Ronald Reagan Blvd.
Bubbalou's Bodacious BBQ
0.2 miles
Central Florida native Bubbalou's has been serving their famous baby back ribs and Texas brisket since 1986. altamonte-springs.bubbalous.com
---
Sanford
Station
2720 W. State Road 46
Two roadhouses are across SR 46 (Texas and Logan's). But a free trolley runs twice an hour to the joys of historic downtown dining such as Chef Nat Russell's inventive take on Southern cuisine at The Tennessee Truffle (Nashville hot quail on scallion pancakes; house-made biscuits with Grammy's chocolate gravy and smoked salt); and The District, with its seasonally changing options like sausage and broccoli rabe hoagies, and braised short ribs with mushroom risotto. thetennesseetruffle.com; districtsanford.com
---
Longwood
Station
149 E. Church Ave.
Pete's Eats
89 feet
Owner Sam Nazario offers breakfast and lunch specials; the signature Gilly's Philly cheese with steak, onions, peppers and mushrooms (and authentic Cheez Whiz); pressed wraps; and Italian ices in Longwood's old post office, a literal stone's throw from the train. peteseatsdeli.mobile-webview1.com
---

(ROBERTO GONZALEZ)
Lake Mary
Station
2200 W. Lake Mary Blvd.
4th Street Bar & Grill
0.3 miles
Sports bar, restaurant and a good place for fried cheesecake, 4th Street also makes an impressive crab cake sandwich and lamb burger. 4thstreetbargrill.com
---
DeBary
Station
630 South Charles R. Beall Blvd.
Hub life hasn't caught up with the DeBary location, but a shrimp dinner overlooking the St. Johns is a 5-mile rideshare away at The Swamp House River Front Grill and Happy Snapper Tiki Bar. Or hop a 7-minute cab ride to the Central Florida Zoo, watch the lemurs and then grab some BBQ at Sonny's. swamphousegrill.com
---
IF YOU GO: As much as we love SunRail, it does have limitations: no service on weekends (Orlando Mayor Buddy Dyer says he would like it to run seven days, and connect to the airport) or past 11 p.m. And while there are weekly and monthly unlimited passes, there's nothing available for "day pass" travelers, so hop-on and hop-off day trips are part of this excursion's experience. One-way or round-trip tickets can be had at the trackside kiosks.