Orlando Food Adventure: 4 Surprising Discoveries
An all-new lineup of culinary oddities, unique finds and hidden gems. Our dining critic journeys into the bizarre, healthy, spirited, "who knew" and just plain cool and delicious.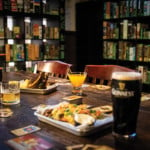 SunRail Expedition | Adventurous Combos | Unexpected Discoveries | Odds & Sods | Sweet Exploits | Festival Forays | That's the Spirit | Uncommon Road Trips | Spotlights
Cloak & Blaster 
Pub
Waterford Lakes
400 board games, old-school video games, trivia nights, drafty beers and ciders and a pun-filled menu of American and British pub food (Lord of the Wings, Revenge of the Curds). cloakandblaster.com/eat
---
Gator Grind Grist Mill
University of Florida, Jay Research Facility
University and local high school students use corn grown on the UF farm near the Panhandle town of Jay to make stone ground grits and cornmeal. $5 per 2-pound bag. facebook.com/GatorGrind. Call 850-983-7121 to order.
---
Grown
Lake Nona
Fact: Walmart is the country's biggest purveyor of organic food. Another fact: Inside the Narcoossee Road Walmart is Grown, a locally sourced, fully organic fast food chain with a menu of wraps, salads and sandwiches. grown.org
---
Nourish Coffee Bar
Center for Health & Wellbeing, Winter Park
Culinary Institute of America graduate Collette Haw serves breakfasts of local eggs and locally baked English muffins, and lunches of house-roasted turkey, beet Reubens and vegetables from Frog Song Organics. nourishchwb.com