Orlando Food Adventure: 2019 Spotlights
An all-new lineup of culinary oddities, unique finds and hidden gems. Our dining critic journeys into the bizarre, healthy, spirited, "who knew" and just plain cool and delicious.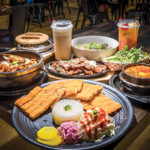 SunRail Expedition | Adventurous Combos | Unexpected Discoveries | Odds & Sods | Sweet Exploits | Festival Forays | That's the Spirit | Uncommon Road Trips | Spotlights
Lotte Plaza Market
West Colonial Drive, Orlando
The massive local branch of this much-buzzed-about national chain (12 stores in three states) opened in January and carries a seemingly endless selection of international staples from Southeast Asia, Japan, China and India. Wandering the aisles of this former Winn-Dixie location is the definition of Food Adventures, with one finding unexplored fresh fish, exotic Asian vegetables (including the infamous fresh durian) and a universe of imported packaged foodstuffs at every turn. But the real surprise is the food court-style stands—freshly made pho; Joen Korean's hotpot, galbi beef and seafood bimbimbap; Seoul Soon's tofu and kimbap sushi rolls; sushi and dumplings from Orlando's own Izziban; and local Vietnamese baker Bread & Co for oven-fresh French baguettes, Vietnamese sweet rice donuts and Japanese green tea manju steamed cakes. Coming in the fall: Taglish Filipino-American Fare. Prices are remarkably reasonable…must be the benefit of having a produce, meat and fish market mere steps away. lotteplaza.com/locations/orlando-fl
---
World Food Trucks
Kissimmee
On the grounds of the Visitors Flea Market on U.S. 192, this permanent food park has grown since 2014 to now host more than 50 trucks (with more on the way) across the road from Old Town and Fun Spot America. There's definitely a family feel here, with rows of picnic tables, and the plethora of food choices means that even the pickiest child will stop to admire the colorful trucks and sample something new. Trucks in all shapes and sizes serve everything from Venezuelan burgers (Go Burger), Dominican papas locos (Dame un Naqui) and shawarma (Beirut Bistro) to Puerto Rican carne frita fried pork chunks (La Fiebre del Sabor Criollo), P.R. alcapurria plantain fritters (Chinchorrear es la Que Hay), and locally roasted coffee (Di Aromas). Many spaces feature Spanish flavors and culture, very much in evidence at Mario Fernandez's Dominican Chimi 809 (handmade empanadas), and at Viviana Torres' Salsa Queen and King Mastergrill trucks (garlic shrimp with mofongo and Puerto Rican tripleta sandwiches). Grab a Hawaiian shave ice at Freeze Your Brain or Spanish brazo gitano roulade cake from Pan de Miel, do a little flea market shopping and enjoy the nightly live music. worldfoodtrucks.com
---
Clay To Table
Next time you're dining out, admire the empty plate, pre-food. Kim Sager's Thrown By Hand in Winter Park has crafted artisanal ceramics for Reyes Mezcaleria, Hunger Street Tacos, Proper & Wild and Kadence. Morimoto Asia at Disney Springs uses bowls from Virginia-based Cloud Terre. Congaree & Penn in Jacksonville makes use of dinnerware from Georgia artist Mollie Jenkins. The beauty is in the artistry, and if you love the dishes, you can order your own. thrownbyhand.com; cloudterre.com; molliejenkinspottery.com
---

(Courtesy of The Baker's Table)
The Baker's Table
New Smyrna Beach
Mexico City-bred chef Jaime Quintana and Culinary Institute-trained pastry expert Jeanette Quintana opened The Baker's Table in 2016, and bring a refreshing sophistication to casual beach-town dining. The menu of Continental, Latin and decidedly American dishes shows remarkable talent in the kitchen; if The Baker's Table were in Orlando, they'd be winning "Best of'' awards all over town. A deeply rich braised duck leg is accompanied by one of the best mushroom risottos in Florida; pillowy house-made gnocchi is crowned with basil-touched ricotta; orange-marinated shrimp ceviche gives new appreciation for local Royal Reds. Breads are baked on premises for dinner service and appealing lunch offerings. It's worth calling ahead to see if the remarkable schnitzel (chicken, veal or pork) is on offer. Open Wednesday-Sunday. thebakerstablensb.com.