Best of ORL 2023: People & Media
The very best of Orlando's people and media.
Good Day Orlando
WINNER: BEST NEWS TV TEAM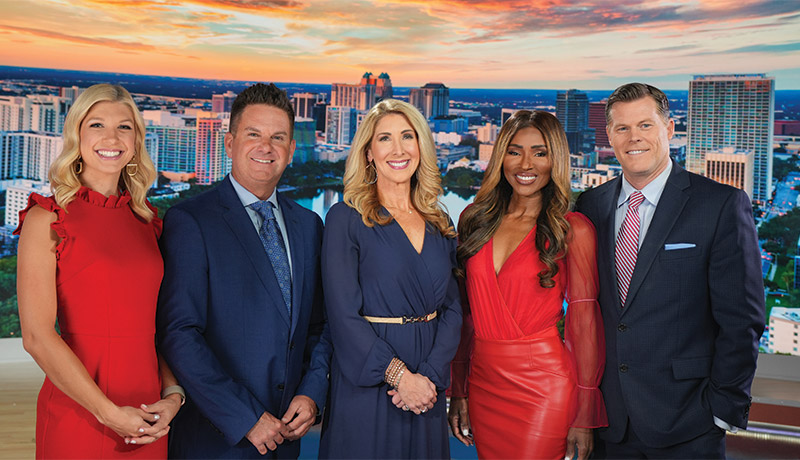 Photo Courtesy FOX 35
Grab that cup of coffee, Central Florida. The team at Good Day Orlando on FOX 35 is ready to perk up your day.
There won't be any cut-ins to national news or other filler information. It's all local, all the time, from 4 a.m. to 10 a.m. Consider it a marathon full of informative and entertaining starts and stops.
"We're human," said Larry Watzman, VP/Creative Services, at FOX 35. "We're human and approachable. Stuff that will save you time. Stuff that will save you money. Stuff that will make your life easier. And still put a smile on your face when all is said and done."
All that "stuff" includes an eclectic list of guests — from Sen. Rick Scott, local author Bob Kealing, and NASCAR driver Tyler Reddick. And, of course, the invaluable traffic and weather updates on a regular basis (and always on steroids during hurricane season).
It's the ultimate team effort featuring anchors Amy Kaufeldt, Ryan Elijah, Danielle Knox, meteorologists Jamie King and Allison Gargaro and "We Love Florida" point man David Martin.
Part of their secret sauce is continuity. Kaufeldt, Elijah and King have been together for more than a decade. The other sweet spot; they all get along fabulously. "Chemistry can't be faked," said Kaufeldt, who will celebrate her 20th year with FOX 35 in August.
"Our friendships are genuine. We're so lucky that we don't have to fake it." Content, of course, is just as important as chemistry.
FOX 35 does not pass the baton over to national affiliates during its broadcast. The team has a go-to feature led by Martin's "We Love Florida '' franchise that takes Central Floridians exploring places to see and things to do locally. A tour of a mango farm. A boat ride inside Tomoka State Park. A new retro arcade bar. "Everyone loves David Martin," Kaufeldt said. "My own mother watches. It adds an element to the newscast that is refreshing, new and different and it gives people a reason to tune in every day."
Kaufeldt's presence reflects that community engagement with a personal touch. She is a supporter of many local charities and has shared her journey publicly after a diagnosis with breast cancer that required surgery and a leave of absence last year.
"Amy comes across like a friend," Watzman said. "She is very likable, very approachable and very relatable."
Tune in and find out.
---
BROWSE WINNERS BY CATEGORIES
TV News Team
TV Weather Forecaster
Local Sports Team
Local Podcast
Local Radio Show
Music Radio Station
Photographer
Social Media Influencer
Spiritual Leader
---
TV News Team
1 Good Day Orlando
FOX 35 Orlando
fox35orlando.com
2 Jim Payne and Meredith McDonough
WESH 2 News
wesh.com
3 Your Morning News
Spectrum News 13
mynews13.com
TV Weather Forecaster
1 Tom Terry
WFTV
wftv.com
2 Amy Sweezey
Spectrum News 13
mynews13.com
3 Troy Bridges
News 6
clickorlando.com
Local Sports Team
1 Orlando Magic
Downtown Orlando
nba.com/magic
2 Orlando City SC
Downtown Orlando
orlandocitysc.com
3 Orlando Pride
Downtown Orlando
orlandocitysc.com/pride
Local Podcast
1 The News Junkie
Orlando
thenewsjunkie.com
2 Orlando Magic Podsquad
Orlando
iheart.com
3 With A Side of Chaos
Orlando
withasideofchaos.com
Local Radio Show
1 Johnny's House
XL 106.7
xl1067.iheart.com
2 Sunday Morning Coming Down
Real Radio 104.1
smcdradio.com
3 A Medicore Time with Tom & Dan
Twitch
tomanddan.com
Music Radio Station
1 Z88.3 FM
Christian Music Station
zradio.org
2 XL106.7 FM
Hit Music Station
xl1067.iheart.com
3 Mix 105.1 FM
Adult Contemporary
audacy.com/mix1051
Photographer
1 Hughes Fioretti Photography
Winter Park
hughesfioretti.com
2 Misty Miotto Photography
Orlando
mistymiotto.com
3 Katie Kaufman Photography
New Smyrna Beach
ktphoto.info
Social Media Influencer
1 Christina Thomas (GoEpicurista)
Orlando
goepicurista.com
2 The Orlando Guy
Orlando
theorlandoguy.com
3 Brendan O'Connor
Orlando
instagram.com/bkeepz
Spiritual Leader
1 Rev David Uth – First Baptist Orlando
Orlando
firstorlando.com
2 Dr. Collin Outerbridge – Nona Church
Orlando
nonachurch.com
3 Byron Bledsoe – C3 Church
Orlando
c3church.cc
---
BEST OF 2023 | FOOD & DRINK | COMMUNITY, HOME & SHOPPING | MEDIA & PEOPLE | FUN & LEISURE | HEALTH & BEAUTY | KIDS & PETS | PROFESSIONAL SERVICES
---