Danielle + Steven
May 4, 2013, Winter Park Farmers' Market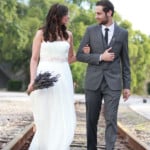 The Bride Danielle, 23, is the manager of meetings and events at the Orlando Science Center.
The Groom Steven, 25, is a video game artist at Iron Galaxy Studios.
How They Met Danielle and Steven met through mutual friends at an Invisible Children event called Displace Me. Held to raise awareness about the lives of children in Uganda, the event created a strong bond between the couple while they spent the night in cardboard boxes and dined on saltine crackers, similarly to how displaced children have to live. Danielle cherishes the memory of the night she met Steven through photos. "Because it was an event, I was equipped with my camera. Not many couples have photos together of the first day they met," Danielle says.
Their Engagement On the date of their four-year anniversary, the couple shared a romantic meal at their favorite restaurant and brought along a bottle of wine from a recent trip to Paris. Later that night, while enjoying glasses of port from another trip out on their balcony, Steven got down on one knee. "He proposed to me with my mother's engagement ring."
Their Wedding A rustic and casual theme meant to feel like an intimate gathering.
Wedding Planner
Helen Tillem and Rebecca Fritz of Orlando Science Center
Gown
David's Bridal
Hair
Connie Diaz, Edge Salon
Makeup
Bekka Vania, Halo Salon
Caterer
Puff 'n Stuff Catering
Stationer
Designed by Joseph Nunez
Printed by Aaron Gonzales at Flying Horse Editions
Florist
LavenderFanatic.com and Carlstedt's Wholesale Florist
DJ/Lighting/Special Effects
Junction 88 Productions
Chuppah Rental
Julbilation Events by Julie
Chair Rental
Orlando Wedding Party Rental
Dance Floor
Letz Dance On It
Honeymoon
Buenos Aires, Argentina
Tables were dressed with lengths of burlap, deer antlers, and bunches of lavender.
Danielle with her bridesmaids, wearing mix-and-match dresses.
Guests were invited to share ceremony photos on Instagram.
The couple share their vows under a chuppah.
Danielle chose to carry a large bunch of lavender as her bouquet.
Lavender flavored cupcakes with lemon buttercream.
Jars filled with berzillia berries, thistles and other unexpected touches hung from ceremony chairs.