Wedding Traditions: More Than Just Words
Wedding vows are an expression of your heartfelt feelings for your partner and your future life together.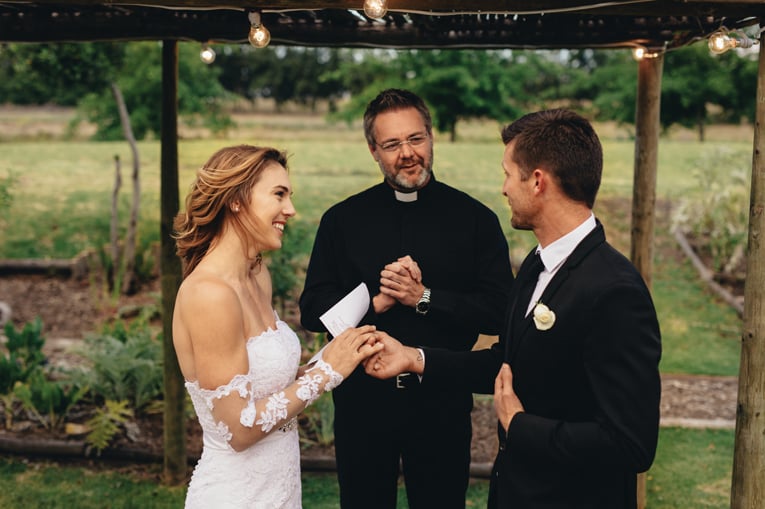 There's a funny and memorable TV commercial in which a groom recites his wedding vows, only to be asked by his bride: "You realize your vows are a Whitesnake song?"
"I do," he says. After all, if a song speaks to you, your bride and your life together, by all means incorporate those lyrics into your vows. You can also use famous sayings, words of wisdom from great leaders, or phrases from your favorite movie.
For her wedding vows, Lizzie Lumley of Delray Beach actually cribbed from herself. She used a list of attributes she wanted in a potential partner—written when she was a teenager.
"I was cleaning out the nightstand in my childhood home when I found the list tucked away," recalls Lumley, a certified wedding coordinator and owner of Hakuna Matata Weddings and Events in South Florida. "The shallow parts of the list made me laugh—like, he must be blonde and cute—but a lot of the qualities I think are most important in a partner were there, including him liking all things Disney, like I do."
So she wrote her vows describing how her now-husband Zack matched up to her teen fantasies. And did he ever. She once dreamed of a future groom who was taller than her—he's 6' 3" to her 5' 9" (check), a dog lover (check), and who was chivalrous, smart and not wimpy (check, check, check).
Many brides and grooms stress over the idea of writing their vows, and the thought of speaking in front of their loved ones can be daunting. Yet, 44 percent of couples write their own vows, according to WeddingWire's 2019 Newlywed Report.
"Don't overthink it," says Lumley. "Just write what you feel, and keep it short and sweet because most likely you will be crying."
Tears were flowing when Tayla Rowley of Winter Park read her vows December 15, 2018. "I was confident I could get through it without crying. Man, was I wrong!" And she continued crying while her husband read his vows. "His words brought me to all the different moments in our relationship, which made everything more special."
Elizabeth Babinski, wedding officiant and founder of Liz Rae Weddings, says to speak from the heart and articulate how you feel about the person. Here are some of her tips for how to get started:
Look for inspiration in poetry, books, even cheesy romantic comedies. Note how the characters express their feelings, and relate that to how you feel about your partner.
Write your vows as if you were talking to your partner. Tell them how much you value them in your life.
If you're not good at writing, record your thoughts. What do you love about your partner? Then listen back and use the best parts.
Start journaling. Capture how you feel about your partner daily. When you're ready to write your vows, you'll already have all the material you need.
Don't leave it to the last minute. Take the time to get it right.
If you're truly blocked, you can always hire an expert. Babinski offers vow consultations in which she mines couples for the gold that makes their relationship tick.
Then, once the wedding is over, don't forget your vows, says Stacie Stine, creator of The Vow Collective. Years after she said "I do," she found her vows buried in a box in her attic. "I realized how important the promises we made were and that it was a good idea to keep them where we could encounter them on a daily basis."
Stine now offers vow calligraphy, which she frames as a memento for couples. It's both a marriage heirloom and a reminder. After all, Stine says, "Weddings are one day; vows are for a lifetime."