Tranquility Base
With its giant spa and glorious food, Canyon Ranch offers a great escape for mind and body in Miami Beach.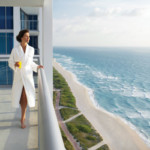 It's near sunset on the sands of Miami Beach and a small group of women are approaching full relaxation, easing into the Warrior II yoga pose. Nearby, couples lounge in beachside cabanas sipping organic cocktails while kids play in the pool.
It's another peaceful evening at Canyon Ranch Hotel & Spa, a high-profile, health-focused retreat that shrugs off the wild nightlife image of Miami Beach just down the street. Located on fashionable Collins Avenue, this luxe boutique hotel (formerly the 1950s-era Carillon Hotel, which in its heyday hosted Barbra Streisand and members of the Rat Pack) is known for its extensive holistic healing facilities and its army of wellness gurus ranging from exercise physiologists to Chinese medicine specialists to acupuncturists.
It sounds as if it could be very "granola" and full of people who have zero-percent body fat lecturing you about your love handles. But it's really quite the opposite.
After a 4-hour drive or a 45-minute flight from Orlando, the relaxation begins when you walk into the stylish, modern suite that will be your home base for the next few days. All 150 guest accommodations have dreamy vistas of the ocean, gardens or the city. With neutral colors, a roomy, granite-clad kitchen and lots of space, it feels like a grand, upscale apartment. The staff will even stock your full-size refrigerator with healthy fare like kale-peanut salads, edamame and power smoothies. Or more indulgent treats, if you prefer.
To enter full sloth mode, though, the first stop should be the 70,000-square-foot spa.
Designed by renowned architect David Rockwell, it is the largest spa in the Sunshine State. Here, your lucky limbs will be treated to a jasmine oil rub-down or thalassotherapy, where you hop into a hydrotherapy tub filled with therapeutic sea products. For a special treat, sign up for the Mindlink Relaxation therapy.
While getting a massage you listen to soothing music through headphones while lying on a sound table, which vibrates in sync with the music. This is good for two reasons: The massage therapist can't chat with you, and your mind instantly becomes focused on the music, rather than the stresses of the week.
On that same note, if you haven't experienced an Ashiatsu massage (where the barefooted therapist walks on your back), you don't know what you're missing. Same goes for the Aquavana thermal suite—a collection of scented steam rooms, an igloo room and customizable showers with the option of Cool Fog, Tropical Rain or Caribbean Storm (complete with tropical parrot sounds).
Behind the Aquavana area is the gym with a smorgasbord of fitness equipment and practice studios for everything from belly dancing to cycling to Gyrokinesis, which zeroes in on fluid stretching techniques and exercises for proper breathing. For a killer workout, opt for beach conditioning or the rock wall boot camp, which alternates between ropes-assisted scrambles up the wall and more traditional grounded exercises like jumping jacks and lunges.
Across from the spa is the Health & Wellness Center, which offers stress-management classes, self-esteem consults, medical services and healing energy treatments like Reiki.
Continuing the healthy theme is the glorious food—organic, ethically sourced and delicious. You can forget about wheat grass juice and tofu: The menu includes main dishes like yellowtail snapper in saffron broth and grass-fed Churrasco steak. And the Miami Beach Canyon Ranch is the only one of the resort's four locations (the others are in Arizona, Massachusetts and Las Vegas) that allows alcohol; in this case, that means organic spirits and biodynamic wine. To help you stay on track, though, each dish has a detailed breakdown of its calorie, fat, protein and fiber content.
Perhaps the best part is that you can be as active or inactive as you want. While many come here with intention, just as many show up to strictly relax. So you don't have to attend any workouts if you don't want to. Classes run most days from 7 a.m. to 7 p.m., whether one person shows up or 20. And all the classes are included with your stay. So, if you've never tried Qigong, a fusion of yoga and martial arts, you can test it out for five minutes or stay for the entire class.
You'll have the chance to address specific health issues like chronic pain or heart disease with medical professionals, if you choose. Have your aura photographed, learn meditation techniques and attend lectures on bone loss and healthy snacking. Or, just saunter down the long stretch of beach and build a sandcastle (they actually have a sandcastle pro on site).
Chances are you'll return from your spa getaway feeling completely refreshed.