The 2017 Pet Guide: Celeb Pets
You may know these personalities because of their high-profile professions. Now meet the pets that won their hearts.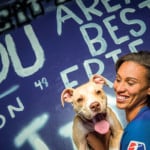 Kristen Edmonds,
Orlando Pride Midfielder, and  Jersey
Pet's Age: 7 months
Breed: Pit bull mix
Jersey bullied her brothers: Edmonds fostered Jersey and her three brothers and almost bypassed adopting the pup because she copped a 'tude with her siblings. "But in the end she grew on me, and I love her," Edmonds says.
The state, not the uniform: Edmonds hails from New Jersey, so the dog's name reminds her of home. "Now I have a little piece of it home with me all the time."
Jersey's must-have: A fan-bought green-and-purple dinosaur. "If she doesn't see it out, she will search high and low for that toy. Sometimes I have to hide it because it has a squeaky in it."
Romp and roll: One day the "energetic and stubborn" pit planted herself on Edmonds' skateboard when her owner was out for a ride. "Now she'll actually get on it and let me push her. I'm hoping when she gets a little bit older, she becomes a full-on skateboarding puppy."
---
Nancy Alvarez,
WFTV-Channel 9 Anchor, and  Chloe
Pet's Age: 1 year
Breed: A dog trapped in a cat's body
"She actually found us": "My husband is a photographer at Channel 9, and he actually found her in the wheel well of a TV news truck in the station parking lot.  He brought her home, and the rest is history," Alvarez says.
Petal-powered: Forget toys, but don't forget the flowers, like the ones Alvarez keeps in a vase. Chloe "swats at them until the petals and leaves fall off and then kicks them all around the house."
But does she like Cat in the Hat?: "Every night, like clockwork, she comes into our son's bedroom, cuddles up and listens attentively to a bedtime story."
Least-favorite thing: "Pose for the 1,456,987 pictures we take of her daily."
Future social media handle: "@NewsKitty, perhaps?" Alvarez quips. Other candidates: @Channel9Lives and @HappeningMeow.
---
Daniel Dennis,
Co-host of 'Tom &Dan' Podcast and Radio Shows, and Caesar
Pet's Age: 11 years old
Breed: West Highland Terrier
The joke's on him: Dennis was planning to prank his wife by pretending to buy a Westie, a breed she loved. But upon visiting a pet shop to take a photo, he fell in love with Caesar, who was languishing in the store. He offered $100 in cash for the puppy. "I brought him home in a cardboard box," Dennis says.
Like the dog in the commercials: His wife named the dog after the pet food whose mascot is a Westie. "I always give her stick about it and make fun of her lack of creativity!"
Studio ambassador: Caesar hangs out at the studio where Dennis and Tom Vann record their weekly show and has earned his place in the logo for the pair's media company, T&D Media.
Pup psychology: "He's better adjusted than most adults I know and interact with on a daily basis."
Part of the family: "He is now the best friend of my 2-year-old daughter, Maisie. The two are inseparable, and it scares me because he's getting older and older.
---
Jackie Siegel,
star of 'The Queen of Versailles' and Bear, Chyna, Louie, Zen and BeBe
The mansion menagerie: Bear, "the movie star" pictured with Siegel in promotional posters, a 10-year-old American Eskimo; Chyna, a 12-year-old American Eskimo; Louie, a 2-year-old hound; Zen, a 3-year-old mutt; BeBe, a 5-year-old Maltese; and a muster of peacocks.
Master of the house: That would be Chyna, who Siegel says is bipolar. "I have a 26,000-square-foot mansion, and she thinks she's the master of the house and I'm her servant," Siegel laughs.
Better than a doorbell: The dogs alert the Siegels if anyone is on their property. "It's the cheapest security system you can have."
Faithful to the end: Zen belonged to daughter Victoria, who died of an accidental overdose in 2015 while Jackie and her husband, time share magnate David, were away. "He was there guarding her the night she did her overdose. He tried to save her and get help, but no one listened to his barks."
They have a big bed: The dogs have their allotted spaces in the Siegels' bedroom—some on the bed and some on the floor. And when her husband is out of town, "they're all with me," Siegel says.
Pass the muster: The peacocks were a gift when the Siegels bought a 4-acre island. "They make a lot of noise but they're beautiful, and we love them."
---
Celine Duvoisin,
Owner of Valhalla Bakery, and Rita, Odin and Gunther
The canine crew: Rita, a 7-year-old American bulldog/boxer mix; Odin, an 8-year-old blue-nose pit bull; and Gunther, a nearly 2-year-old red-nose pit.
Name games: "Rita is named because we wanted a bull terrier, and their heads are shaped like a Doritos. Odin is exactly as he sounds: He's a god among us mortals. Gunther was the only name we agreed on after three hours of name-storming."
Playing dress-up: Duvoisin likes to dress her pups in costumes. "They tolerate it," she says.
Put him in the passenger seat: "Gunther hates texting. He will knock your phone out of your hands if you're not paying attention to him."
Use the fridge lock: "Odin is a crafty genius, and we have to keep the fridge locked because he will open it and eat EVERYTHING."
Second skin: "Rita can do no wrong," says Duvoisin, "but I think she wants to wear me as a skin suit.''
---
Joseph Hayes,
'Orlando' Magazine Dining Critic, and The Boy
Pet's Age: About 12
Breed: A classic Lynx Point Siamese, "and a very handsome fellow, which he knows," says Hayes.
Aliases: "He's also known as The Guy, Leo (by the vet, we don't know why) and No More Food, You Just Ate."
Bush baby: "He appeared one December afternoon under the bush at our front door, crying, afraid and, as we found out, covered in fleas. It took two days to get him in the house."
No autographs, please: The Boy hogs the limelight when Hayes, who also has local theater connections, has parties. "He has fans all over the world; there's a gang of actresses who text us solely to get the latest picture of him."
His people are well-trained: The Boy, who's "very doglike" and enjoys fetch, has "taught us to open the back door when he rings the bell."
Time to get a job: "When he can buy his own phone, he can have social media."