Premier Veterinarian Spotlight: Underhill Animal Hospital
Meet the talented team over at Underhill Animal Hospital!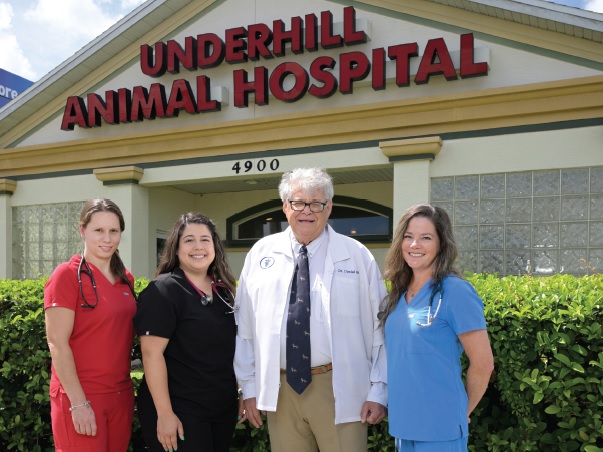 Underhill Animal Hospital
L to R: Kristin Wolfenden, DVM; Bianca Zayas, DVM, MS; Daniel Hill, DVM (Owner); Kelley Cole-Stanko, DVM

ABOUT US:
Established in 1957, Underhill Animal Hospital was the fourth animal hospital to open in Central Florida, and we have been taking care of pets and their families nonstop since then. We are a full-service hospital offering the latest technologies in examination, diagnostic and treatment services. Our services include internal medicine, surgery, wellness and preventative medicine and vaccines, geriatric care, and emergency and urgent care. Currently, we serve 22 city, state and government agencies and their working canines, including the Orange County and Seminole County Sheriff's offices, the Orlando Police Department, and the Department of Homeland Security.
WHY CHOOSE UNDERHILL:
As one of the longest-established veterinary hospitals in Orlando, we offer many specialized services, including Ultrasonography, Digital Radiography, OFA & Penn HIP screening, cold-laser therapy, dentistry, soft-tissue surgery, and drop-off services. We also offer boarding, with one of the largest exercise yards in the area, bathing and grooming. We even have an online pharmacy for all your pet's needs.
OUR PET PHILOSOPHY:
We believe that pets are family and we treat them as such, striving for excellence in the care we provide.
CONTACT INFORMATION:
4900 Lake Underhill Road
Orlando, FL 32807
407-277-0927
underhillanimalhospital.com