Pig & Hen: Best Nautical Bracelets for Men and Women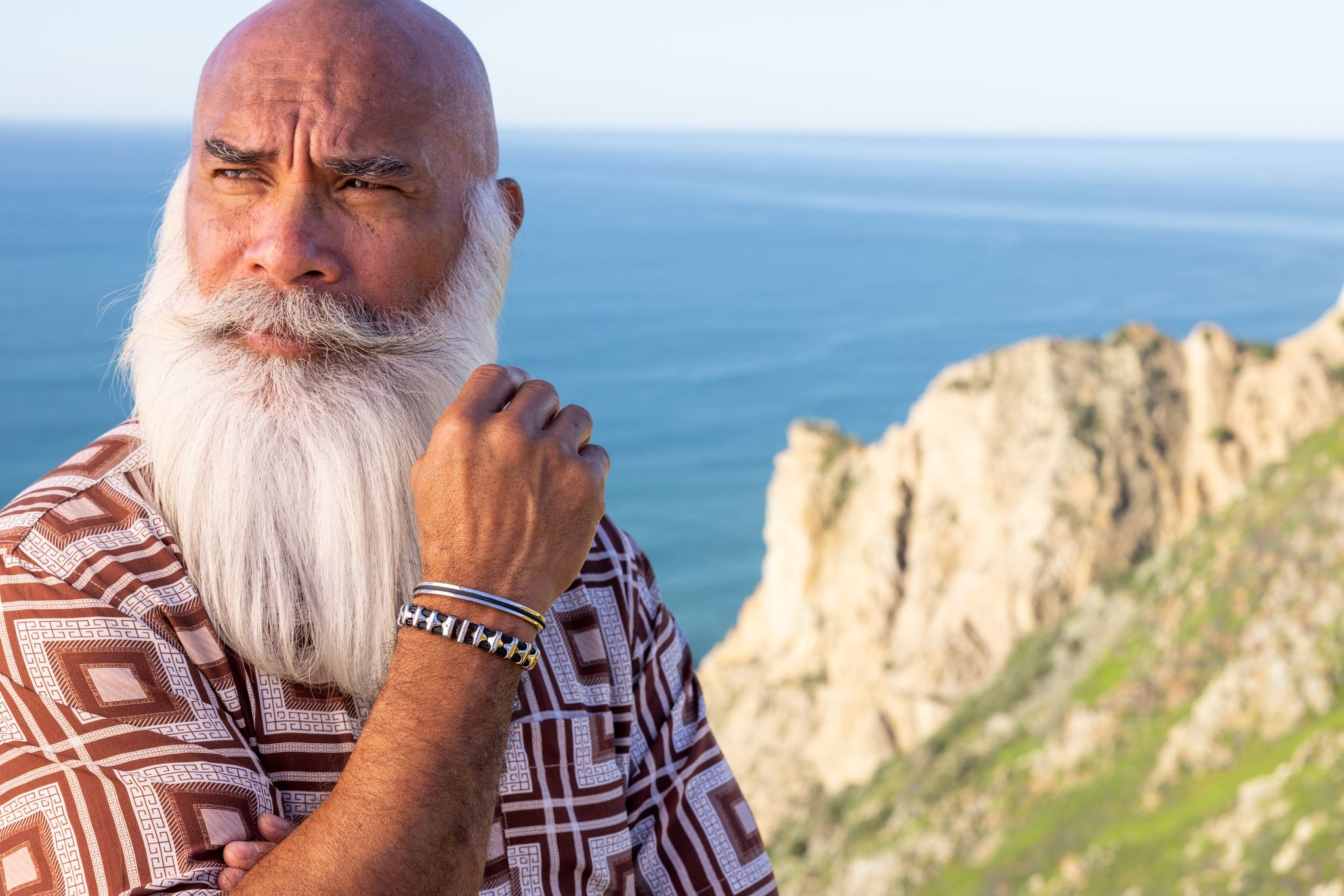 Strong, unique and sustainable.
The nautical jewelry brand taking everyone by storm (no pun intended), is Pig & Hen! Pig & Hen is a bold and refined brand producing handmade bracelets in Amsterdam for men and women.
Founded in 2013 by two friends, Dominic Bakker & Rutger Versluis, at a kitchen table in Amsterdam, Pig & Hen has grown into the premier marine-grade nautical bracelet brand in the world. Both founders have a unique interest in fashion and sailing. "I started the brand ten years ago with one of my best mates. And I've always been a sailor," said Bakker. "The last 20 years or so, I've been (sailing) with my dad and my brother, and we race competitively all through Europe."
Bakker began working for a company that specialized in nautical ropes, noting "one day I grabbed a piece of rope and made a bracelet. My good friend, Rutger, asked me to make him one as well." Bakker noticed an absence in the marketplace for high-quality, premium nautical jewelry that could stand up to the most rigorous environments. The brand quickly expanded to Belgium and Norway, and within six months of attending their first trade show, landed their exceptional products in more than 100 stores.
Later Thomas van der Kallen and Stefan Textor joined the team as co-owners. This year, Pig & Hen is set to celebrate their ten-year anniversary.
Celebrating 10 Years
Now sold in over 50 countries, Pig & Hen is the premier nautical bracelet brand with marine-grade materials. For their tenth anniversary, Bakker and Textor assured customers it would be "big"! Bakker told us "We're definitely going to celebrate because our five-year anniversary was amazing. People still talk about that. So, we have to do better for the ten-year anniversary.
What's In A Name?
In the early 1600s, Dutch explorers set sail to unknown parts of the world, eventually boasting the largest naval fleet on Earth. With some serious sea legs, they discovered new lands and ways of life – all the while overcoming oceans of obstacles along the way.
To protect themselves from bad luck, mariners inked tattoos of a pig and a hen on their feet because crates of pigs and hens were oftentimes the only items left floating after a shipwreck.
The sailors believed a pig and hen tattoo would help them not only survive the strongest of storms, but also allow them to float back safely to their beloved homeland. "No matter what kind of trouble you get yourself into, as long as you wear your Pig & Hen, you will find your way home safely." Said Bakker.
Materials Matter
All of Pig & Hen's marine-worthy products are made from nautical-grade polyester rope.
"The rope we use is from a marine industry company that only sells to sailing ships. It's not a typical string; it's a real legitimate marine rope." And polyester has so many benefits:
It does not fade
It does not elongate
It does not tarnish
It is colorfast
The steel used in Pig & Hen jewelry is also marine-grade. Bakker exclaimed "we always wear it. We never take it off, not even when we're working out or taking a shower or having a swim in the sea." The team at Pig & Hen also note rope products are washing machine safe, but recommend placing them inside a washing machine safe pouch first.
The Products
"Everything is handmade in Amsterdam by our associates in our workshop. And that's where a lot of the ideas come from as well." Bakker added. Pig & Hen bracelets are available in standard sizes, and certain styles are offered in an adjustable size if you're not quite sure what your wrist size is. If you don't know your wrist size, try Pig & Hen's handy Wrist Sizer.
Men's Best Sellers
Pig & Hen's most popular men's bracelets include their rope, bead, and cuff collections. Here are our Editor's Top Picks for the best Pig & Hen offerings:
Editor's Pick: Little Lewis DBL Navy | Silver
Price: $99
Little Lewis DBL features two silver shackles and is adjustable for a perfect fit. It is understated and masculine, looking just as good with a tee as it does slipped under a black or white shirt cuff. Lewis is always upgrading, with the quality he's famous for: every single craft is a masterpiece.
Editor's Pick: Salty Steve Black | Black
Price: $99
The Salty Steve is the all-time classic and best-selling model from Pig & Hen's collection. The double rope and signature d-shackle combine to create a robust bracelet. Ideal for pragmatic yet tough men who prefer to keep their bracelet on at all times.
Editor's Pick: Vicious Vik Navy-Sand | Silver
Price: $89
The Vicious Vik is a stylish relatively narrow bracelet that suits modern men who like to keep their jewelry subtle. This bracelet combines perfectly with a nice watch or another sophisticated bracelet.
Editor's Pick: Brontide 6MM | Tiger Eye | Black
Price: $129
Brontide 6mm's Tiger Eye gemstones awaken the primal instincts. The Tiger Eye stones are rare and once considered more precious than gold. They are worn by the bravest soldiers to stand tall in battle. Embrace your inner predator: in the eye of the tiger.
Editor's Pick: Navarch 6MM | Black | Black
Price: $129
The Navarch cuff are handcrafted in Amsterdam for the born leaders. This cuff with its unique and distinctive marine rope literally goes well with anything. The Navarch cuff available in both silver and black and will soon be available in gold too. Did you know the mean of Navarch is the commander of a fleet in ancient Greek?
Women's Best Sellers
Pig & Hen's most popular women's bracelets include their rope, bead, and cuff collections. According to Bakker, "we launched our women's collection last July. We incorporate a lot of women into our strategy team to create a women's line." Here are our top Editor's Picks.
Editor's Pick: Lewis | Ivory | Gold
Price: $89
The adjustable Little Lewis is named after a true craftsman. Pig & Hen calls him Little, because he appreciates the little things in life and because they always want him to work a little faster. Every single craft is a masterpiece, Lewis has a razor-sharp eye for detail.
Editor's Pick: Brontide 4MM | Black Agate | Gold
Price: $119
Brontide's Volcanic Force Black Agate gemstones contain a deep powerful force hidden in the depth of a volcano. Break through your barriers, show your mighty skills and become unstoppable: be a force to be reckoned with.
Editor's Pick: Maya Lou Black | Gold
Price: $149
As a subtle bangle, the elegant Maya Lou is the feminine counterpart to the Navarch cuff. Perfect for mixing and matching. Designed for the strong, modern and elegant woman of our time.
New Products
Launching April 1st, Pig & Hen is set to debut its new sustainable line of nautical marine-grade bracelets. "We're starting this spring with all the black ropes (that) are 100% recycled," said Bakker, who also noted navy options will be available in the Fall of 2023. The leadership team at Pig & Hen has pledged to do their part to create a more balanced world by initiating and maintaining exceptional customer experiences, workplace practices, and environmental alliances.
Pig & Hen have committed themselves and their company to this high standard of excellence as members of the international fashion community, as employers, and as people who want to see the world become a better place for everyone. "It would be nice to get more plastic out of the ocean." Said Bakker. A sentiment we can all agree with.
Special Offers
Get 10% off your first order by signing up for Pig & Hens Newsletters! Pig & Hen also offers regular high-quality gift with purchase collaborations with local Amsterdam-based companies. Check out their special offers page for more information and limited-time deals.
Product Guarantee
Pig & Hen stand behind their products longevity. They offer free product returns within 30 days on all bracelets, and offer an easy sizing exchange online. "We've got a 30-day money back guarantee and a two-year warranty. So, if something goes wrong, no questions asked," says Bakker.
Shop Pig & Hen Locally
Want to see Pig & Hen in-person? You don't need to travel to Amsterdam to shop this amazing collection. Current by John Craig in Winter Park also carries a selection of Pig & Hen products. Stop by their lovely boutique on Park Avenue.