Must-Have Pet Products For Your Best Four-legged Friends
Innovative pet products help keep your household animals and barnyard friends happy and healthy.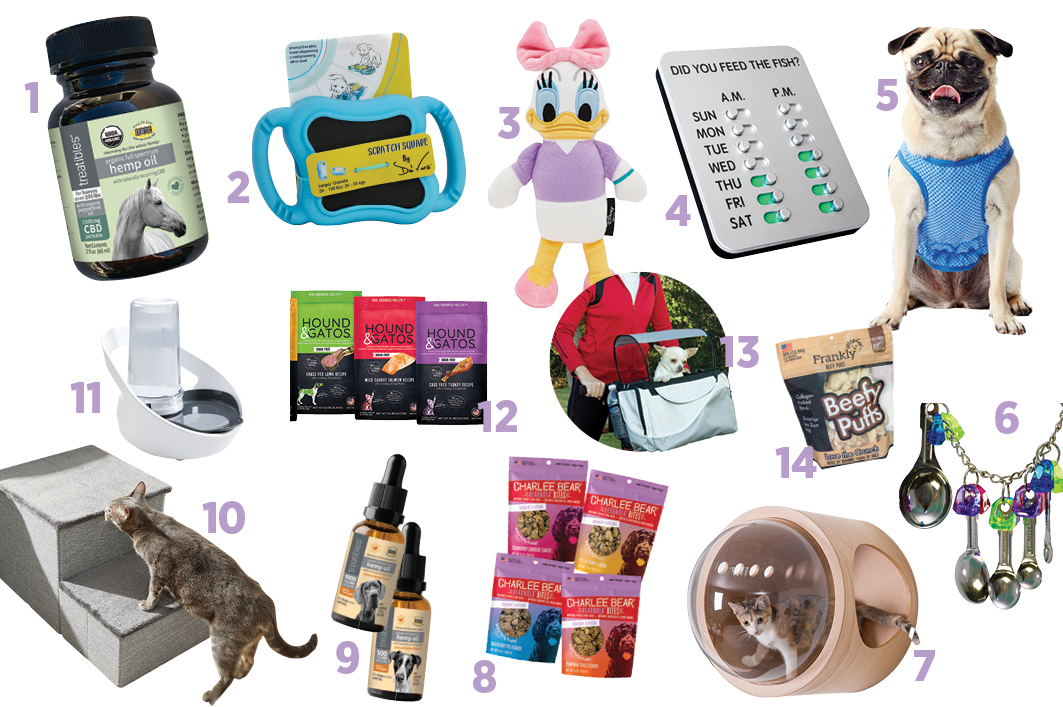 If the pandemic has taught us anything, it has been to value our beloved animals who have been a stabilizing presence in our insular worlds. How can you thank them? We have a few ideas.
HELP FOR HORSES. Household pets aren't the only ones who can benefit from a calming immune-system boost. Peppermint-flavored Treatibles Organic Full Spectrum Hemp Oil gives your horses all the benefits of hemp while improving their coats and addressing hoof issues. $185. treatibles.com
CAT (AND DOG) SCRATCH FEVER. Hide a treat inside a De'Vora Scratch Square, and watch your pet give itself a pedicure trying to get at it. The device stimulates your dog's senses and helps curb anxiety while acting as an emery board to protect your floors, furniture and skin from scratches. $14.99 (cat), $24.99 (dog). devora.us
BUT WOULD DONALD APPROVE? The Disney Daisy Duck Plush Kicker Cat Toy with Catnip has it all: a soft fabric exterior with a tempting crinkly paper interior stuffed with catnip. This Chewy exclusive is ideal for high-energy cats who enjoy digging their claws and teeth into their toys. $7.98. chewy.com
THINK FULL BELLY, NOT BELLY UP. Fish owners face two conundrums: overfeeding pet fish or forgetting to feed them at all. Neither turns out well. But the DYFTD "Did You Feed The Fish?" Daily Feeding Reminder provides a failsafe system. Just slide the lever to green to indicate the fish have been fed each morning and evening. You can easily adhere it to the front of your tank magnetically or with foam tape, both of which are provided. $8.92. chewy.com
ICE DOGGY. If you want to help your pooch weather the Florida summer heat, simply wet the GF Pet Elastofit Ice Dog Vest, wring it out, and adjust the Velcro closures to provide the perfect fit. Your pet will stay cool and enjoy protection from harmful UV rays without the bulk of other cooling vests. $21.02-$44.99. chewy.com

PLAYING SPOONS

. Bird owners know their feathered friends need stimulation too. Your pet will enjoy climbing or swinging on the Bonka Bird Toys Spoon Delight Bird Toy, made from durable, bird-safe materials. Hang it straight down for climbing or swinging, or attach both ends to the cage for a swinging perch. $14.77. chewy.com
BECAUSE CATS ARE AN ALIEN SPECIES. Give your cat a portal to the perfect nap with the MyZoo Spaceship Gamma Wall Mounted Cat Wall Shelf. The bed can be mounted to the wall so your fussy feline can look upon the world that is so beneath it, or it can sit on the floor like a rocket ship. A large hole allows for easy entry, and smaller holes allow for plenty of air circulation. $135. chewy.com
JUST-RIGHT BITES. Granola isn't just for hoo-mans. Now it's also for dogs. Charlee Bear Bearnola Bites are natural, training-sized treats made with oats, honey and vanilla. Your pampered pooch can choose from fun flavors like Blueberry Pie, Cranberry Cobbler, PB & Honey and Pumpkin Spice. $7.99; chewy.com
DOGGIE ZEN. Help your dog overcome anxiety (think hurricane season), joint and digestive issues and mobility limitations with Treatibles Extra Strength Organic Full Spectrum Hemp CBD Oil with Peanut Butter Flavor. This high-potency, pure formula is easily administered and is packed with peanut-free peanut flavor. $65-$100. treatibles.com
A leg up. Old pets and tiny pets often struggle to climb onto their favorite seats. The plush-covered Frisco Collapsible Cat & Dog Stairs & Storage will make climbing a joy while providing hidden storage under the steps. $31.99. chewy.com
SMART WATER FOR YOUR CAT. The amount of water your older kitty drinks can say a lot about its health. Sure Petcare Felaqua Connect cat hydration system not only automatically provides fresh water from its reservoir, but the battery-operated unit also connects with an app via the Sure Petcare Hub to let you monitor the hydration level of your entire fleet of felines. $125; $69 for the hub. surepetcare.com
LIMITED INGREDIENTS, BIG NUTRITION. If your cat or dog could talk, it would probably ask for more meat, poultry or fish. That's exactly what you'll find as the first ingredient in Hound & Gatos natural dry food for dogs and cats. Packed with superfoods but free from plant proteins such as peas, chickpeas and white potatoes, this tasty kibble is also available in ancient-grain and grain-free formulas. $12.99-$47.99 (cat); $22.99-$89.99 (dog). amazon.com
WHEEL FUN. Let your furry friend come along for the ride in the PetSafe Happy Ride Sport Cat & Dog Bicycle Basket. The carrier has a safety harness to keep your 13-pound or smaller pet safe. It also has compartments for treats and waste bags and a detachable sun shield. Upon arrival, convert it into a shoulder-harness pet carrier. $46.95. chewy.com
PUP-PLEASING PUFFS. Free from preservatives, chemicals, wheat and artificial ingredients, Frankly Pet Beefy Puffs combine taste and crunch with collagen and protein to support your dog's overall health. Plus, they're made in the U.S. from grass-fed beef. Available in original and venison flavor. $6.99 (small bag), $10.99 (large bag). franklypet.com