Growing Up Gridiron: UCF's New Coach, Josh Heupel
A look back at UCF's Josh Heupel's roots as he trades in his Knight's helmet for the helm of Tennessee's coaching staff.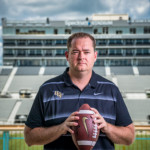 Editor's Note: Congratulations to Coach Josh Heupel on his new position as Head Coach of the University of Tennessee Vols! In celebration of his achievement, we take a look back at this Orlando magazine story from 2018, when Coach Heupel arrived at UCF. —BF
Even as a toddler, Josh Heupel was wired to be a competitor and a champion. Now as UCF's new head coach, he seeks to build on perfection.
His son was just 3 years old when Ken Heulpel first saw it.
Little Josh Heupel had been begging his dad to let him tag along at football practices when Ken was the defensive coordinator at Aberdeen Central High School in South Dakota. Football coaches back in the olden days of 1981 were known for not putting up with nonsense. And, if anything, Ken Heupel has a doctorate in Old School.
"Now son, if you come to practice, I can't have you messin' around," he'd tell the boy.
The boy would nod, assuring his father he wouldn't.
So one day, Josh's mom, Cindy, picked up the boy from daycare, brought him to the football field, leaned him over an iron fence and literally dropped him off.

The future star in his element. "There was always something about him that you just can't coach into someone,'' his dad says. (COURTESY OF CINDY HEUPEL)
"As soon as his sneakers hit the ground he was off and running, and from that day forward he was actively involved in everything we did," Ken says. "He sat in on team meetings, watched game films, interacted with the players, was a ball boy. No matter what football program I was with, whether it was high school or college, Josh was always there and never once did I have to say, 'Josh, quit messin' around.' "
Call it drive, intuition, talent, instinct, or a combination of those and more. Ken Heupel can't define the "it'' factor. But he knew early that his son had it. And he's convinced that UCF fans are about to witness it too as Josh Heupel leads the Knights into the 2018 season as their new head football coach.
"There was always something about him that you just can't coach into someone," Ken says.
Now 63, Ken Heupel rewinds his mind, hitting pause on one memory after another. He thinks about how tedious film sessions are, and how they could be especially that way for a child; but not for young Josh Heupel. He'd sit watching game film being dissected and analyzed and then go home and watch a football game on television, applying what he had just absorbed in a dank film room to what was emanating from a TV screen. And he not only could repeat what he absorbed, but also explain it and even question it.
Once, when Aberdeen Central had suffered a crushing loss in the state semifinals, Josh was riding home with his father, sitting in the car's passenger seat. As Ken recalls, Josh was only 8, so small that the seatbelt's shoulder strap covered his mouth. He pulled the strap away so he could speak.
"Dad," he said, "you know they were running a radar defense on third down?"
"Yes, son."
Pause. Again, little Josh pulled the seatbelt strap away from his mouth.
"You know that with a radar defense the flats are open?"
"Yes, son."
A longer pause, with a slight hesitation added in. Josh's fingers pulled the seatbelt strap away from his mouth a third time.
"You know we only threw to the flats two times tonight?"
All these years later, Ken chuckles at the memory, recalling that it was another one of those "it" moments. He also recalls hoping his son didn't pull that seatbelt strap away from his mouth a fourth time.
"It was a tough enough loss as it was," he says, "and now I had my 8-year-old son critiquing me."
That was the football side of Josh analyzing the game. Then there was the football side of playing the game, when Ken witnessed a fiery competitiveness that—like that "it" factor—you just can't coach into a kid. Not only did Josh embrace competition, he had the ability to make that shot on the basketball court or throw that touchdown pass on the football field—and to do so at the precise moment when his team needed it. And when plays were breaking down and holes were closing, Josh was able to see not the roadblocks, but the new pathways—able to slow the game down when at the same time it sped up for others.
Josh was 16 when he and a high school classmate named Dawn Dell became friends; a friendship that eventually led to a romance and then marriage, now with two children—Hannah, 10, and Jace, 8.
Dawn also saw the "it'' factor, even back then.
"He was different from other guys, not just in high school, but we went to different colleges and he was different from any guy I ever met in college," she says. "He was serious, driven; there was an ambition about him." She pauses, contemplating her thoughts and words. "I don't know if serious is the right word, because Josh likes to have fun, but there was a maturity about him that was ahead of his years."
Steve Svendsen has been coaching football for 33 years and he's never had a player like Josh Heupel. "He's the most prepared athlete, and I mean meticulous in his preparation, that I ever had," says Svendsen, who coached Josh at Aberdeen Central and is now the head coach at Caney Creek High School in Conroe, Texas. "He wanted to know everything."
Svendsen recalls times when he'd watch game film with Josh at the school's field house or at his own home and "he'd wear me out. I'd have to tell him, 'Josh, it's 10 o'clock and I've got to go to bed.' "
Before his senior year, Josh wrote down a set of 20 goals that included a daily log of the food he ate. Svendsen saved it. "It's an amazing thing to look at, with how detailed it is," he says. "I show it to kids all the time as an example of how to set goals. Combine that with Josh's talent, and his competitiveness, and you can see why he became such a great college athlete and coach. He just cares so much."

​Josh, with parents Ken and Cindy and sister Andrea, holds the Walter Camp Award for collegiate player of the year in 2000. (COURTESY OF CINDY HEUPEL)
Heupel was 39—he turned 40 on March 22—when UCF hired him to succeed Scott Frost, who departed for the University of Nebraska. He's young enough that he not only plays pickup basketball games with his staff, he's also one of the better players on the court, demonstrating ambidextrous skills. That athleticism tends to get forgotten about Heupel, who in 2000, as the University of Oklahoma's quarterback, helped lead the Sooners to their last undefeated and only 13-win season, as well as the National Championship. He also finished runner-up for the coveted Heisman Trophy to Florida State's Chris Weinke, one slot ahead of third-place finisher Drew Brees.
Shortly after getting the UCF head coaching job, a Central Florida journalist told Heupel that he is a Heisman Trophy voter and that he voted for Weinke that year. Heupel smiled and perhaps only half-kiddingly said, "Thanks. Great. That was a close vote and it probably cost me the Heisman Trophy." Indeed, it was a close vote, with Weinke edging Heupel by only 76 points—,1,628 to 1,552. The journalist asked Heupel if finishing second still bothers him. "My life's been pretty good," he says. "As a competitor do you ever think about that? Absolutely. You want to win everything all the time. If you're a competitor you're wired like that."
He's wired like that.
Dawn will tell you that the Heupel household is a competitive one. She's a former athlete too, having briefly played volleyball and basketball in college. "At our house it's like the Heupel Olympics," she says. "My daughter is the biggest game person and she's always roping Josh into these four-hour games of Monopoly." Because of how Hannah can melt her dad's heart, he sometimes lets her win, but rarely.
Then there are the epic games of some variation of football that he plays with his son, Jace, in the family's backyard. "Sometimes I look out the window and see Jace on the ground crying," Dawn says. "And Josh is telling him to get up and finish the game. And Jace is saying he's done. And Josh is telling him that he has to finish what he started. As a mother that's sometimes tough to watch. But there are lessons there that he's teaching."
Teaching is what Josh calls coaching. It's what Heupel is bringing to UCF and how he hopes to impact his players.
"I think it's the power of one, that one person can make an impact that changes the course of someone's life," he says. "We talk about having real relationships. If you have that, they accept coaching in a different way. They understand where you're presenting the information from, which is a place of caring about them, about loving them. When that happens, you have the ability to change the scope of someone's life. And that's the greatest thing about this game to me. People use the word coach, but we're really teachers. We teach the game, but we're teaching life lessons through it."

The Heupels at home: Josh, wife Dawn and children Hannah, 10, and Jace, 6. Recalling Josh's high school and college days, Dawn says: "There was a maturity about him that was ahead of his years." (ROBERTO GONZALEZ)
Once, when he was growing up, Josh Heupel was riding in the family car with his parents when he announced that his goal was to play in the NFL and also do something to help young people who didn't have the advantages he did. Ken Heupel looked at his wife, Cindy, and they knew they had just witnessed another "it" moment. Sure enough, after his college days, Josh was drafted by the Miami Dolphins, but injuries waylaid his pro career before it could gain traction. But while he was in college he started The 14 Foundation. It initially focused on a Thanksgiving food drive and as a way to bring Christmas gifts to disadvantaged children. The foundation, run mostly now by his father and others, has branched out into various football camps which, according to the foundation's website, focus on "lessons on health, fitness, academic achievement, how to make good life choices in avoiding drugs and violence, and leadership skills focusing on discipline, respect, trust and hard work."
It all sounds good, and it is good, but Heupel is intelligent enough to know that as a head football coach at a major program, he's in a bottom-line business. He's also obviously aware that UCF just put together a historic season—going 13-0 and staking claim to being the real National Champions.
Pressure?
"We talk to our players about it and our coaches, and we have to adhere to the same advice—don't pay attention to outside noise," he says. "It sounds easy; it's hard in practice. But it's the reality. I've played and coached in high-pressure venues where you're expected to go win every ballgame."
He ruminates aloud that it's rare in college football to capture back-to-back national championships and even rarer to accomplish back-to-back undefeated seasons. But that doesn't mean he isn't going to try. "We have extremely high expectations inside of our football program," he says. "But we haven't talked about going undefeated. At the end of the day, it's our job to focus in on going 1-0 every week."
He knows, though, that it's the storyline. He knows that UCF fans—with a team many prognosticators consider loaded with even more talent than last season—want nothing short of a repeat performance while the college football elitist would enjoy nothing more than to see the Knights falter so they can point to the program with haughty noses tilted high and claim that 2017 was a fluke.
"Look," Heupel says, addressing the topic head-on. "I know that at some point we're going to lose a ballgame while I'm the head coach at UCF. I don't want that to happen for a long time, but all I can control is today."

Heupel and his team in scenes from recent practices and the annual Spring Game. UCF's Knights open their 2018 season on August 30 at the University of Connecticut. (Courtesy of UCF)
This is Heupel's first head coaching job, but he not only grew up around football coaches, he got into the profession when he was 26. He started as a graduate assistant at his alma mater. After spending a year as the tight ends coach at the University of Arizona, he returned to Oklahoma and spent nine years there under the same coach when he was a player—Bob Stoops. He was the quarterbacks coach for the first five years at OU and then served as a co-offensive coordinator for four seasons. But after an 8-5 season (5-4 in the Big 12) in 2014, Stoops fired Heupel. The two men haven't spoken to each other since.
Statistically, though, it was Oklahoma's defense, not the offense, that was the Sooners' problem in 2014. The bigger problem, however, was that the team's defensive coordinator was Stoops' brother, Mike. While an 8-5 season at a traditional power demanded that some heads roll, it sure wasn't going to be that of the head coach's brother. Many college football observers believe Heupel was made to be the scapegoat, getting news of his dismissal from the head coach he both played and coached for via a telephone call.
When the theory that he was made to be the fall guy for an 8-5 season is broached with Heupel, with a recorder running in front of him, he just stares. Seconds tick by. Finally, he says, "You can write that down, but I'm not going to answer."
What he will say is that getting fired allowed him "the opportunity to push pause and reflect on the positives and the negatives and the forks in the road you ultimately go down. I think things happen ultimately for a reason. I think I've grown from the experience. I got back to my roots offensively to what I want to be about."
After a year as the assistant head coach at Utah State, he took a job in 2016 as the quarterbacks coach and offensive coordinator with the University of Missouri and showed that whatever made him successful as a coach, he still had it. In his first season, and in the vaunted Southeastern Conference, Heupel led a Tigers offense that had been ranked 124th in the country the previous year to 13th in 2016 and eighth last season. In fact, in 2017 the Tigers led the SEC in total offense—averaging 502 yards per game, as well as 51 points per game in their final six games.
But if you're a college football coach, you know that you never reach the end zone. There is always room to improve, always new ideas to absorb, always another set of eyes that might see something you're missing. In line with that, Josh invited his father Ken to hang with him for a couple of weeks during UCF's spring practices and provide feedback.
"Every day after practice he'd come in with a notebook full of things," Josh says with a smile. It was a little bit of role reversal for sure, but that's okay. Even though Ken Heupel always knew that his son had that "it" factor, as an old football coach he also knows that you never want to take it for granted.