Digital Detox
Addicted to your phone? Here's why you should take a step back from your screen.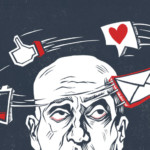 These days our phones are an extension of us. They are our sense of direction, our clock, our creative outlet, our means of communication, and our trusty sidekick who is always by our side. While this 24/7 connectivity can be a blessing, it's also becoming a serious hindrance to our good health without us even realizing it.
By design, the latest technology is meant to draw you in. "The addictive quality is huge," explains Dr. Amber Fasula, clinical psychologist and director of the Neurogenesis Center of Florida. "Top scientists and programmers work tirelessly to keep people on sites and apps for as long as possible." The constant barrage of stimulation from your screen, especially an interactive one, affects the brain's frontal lobe, triggering neurons to communicate faster. This hyperarousal makes it harder for your brain to slow down when it comes time to sleep or relax, leads you to crave more stimulation, and results in mood swings and behavior changes and hinders problem-solving abilities.
"Longer term, the two most detrimental aspects are the decrease in quality of relationships and the disappearing of creativity," Fasula says. With this long-running list of negative side effects, taking a break from screen time is a way to reset—and a way to see if lingering symptoms of anxiety or depression subside. "You get time with yourself," she says. "As human beings, we need to problem-solve in a real, three-dimensional world."
Tesia Chen has made digital detoxing an annual practice—most recently for a few months during a big job transition. "It was during the election, so I was glad I was able to think my own thoughts without the noise of everything going on in the news and on social media," she says. "I noticed how certain information and stories had a negative impact on me—especially when I had a lot on my personal plate."
Chen reported feeling less anxious, more productive, and overall more fulfilled after taking a technology hiatus. "The one hard thing was staying connected to people I wanted to stay in touch with—but that led to phone calls, which wasn't a bad thing," she says. "Now that I'm back online, I have a better sense of what not to click on, read through or even think about."
---
Want to Cut Back? Here's How:
Set a Goal—and Parameters. 
An ideal detox should last three to four weeks. If it's unrealistic to cut out all technology, deactivate apps and limit yourself to an hour of screen time a day.
Keep a Journal. Tracking the number of times you pick up your phone keeps you accountable.
Meditate Each Morning. It lets you check in with yourself—not your Facebook friends.
Buy an Alarm Clock. Waking up without relying on your phone safeguards against unnecessary morning scrolling.
Get Others on Board. Tell your friends and family members. Try planning an electronics-free night. Chances are the quality of conversations—and fun—will increase.