14 Best Smelling Colognes for Men (2023)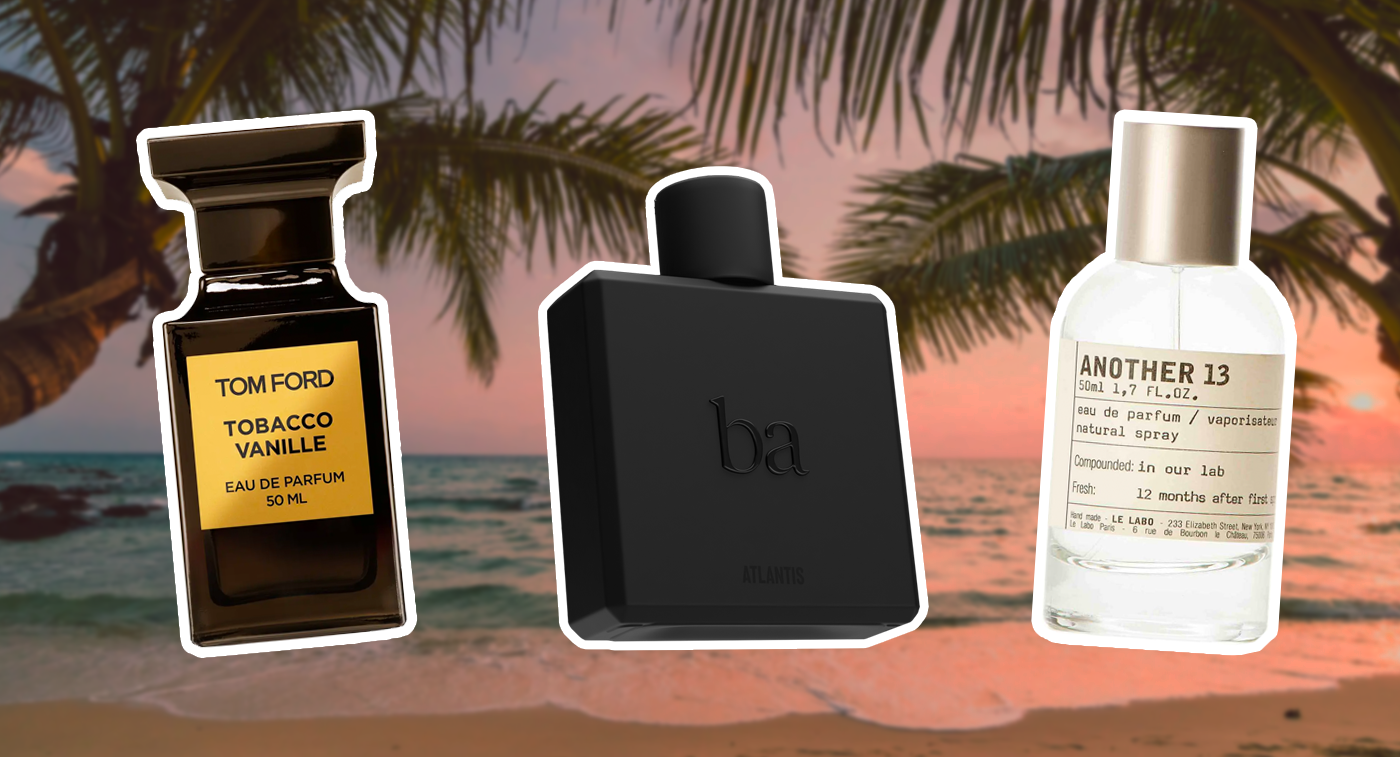 We don't want to put too much pressure on you, but your cologne can make or break your style. The right fragrance ties everything together to make you look, feel, and smell confident and powerful.
On the other hand, the wrong fragrance – whether it's too overpowering, doesn't work for the season or simply doesn't fit your essence – can end up leaving the wrong impression on those around you. While it can often be forgotten, we need to give as much careful attention to our scent as we do to our clothing and general physical appearance.
If you are currently on the hunt for your new signature fragrance to take your style to the next level, we're here to tell you about the best smelling colognes for men in 2023. Whether you want something citrusy and fresh, warm and inviting, or dark and mysterious, you'll find a cologne in this list that fits your unique preferences and lifestyle.
The Best Smelling Colognes for Men of 2023
Below, you'll find a selection of some of the most popular and best smelling colognes that men are currently using in their grooming routines.
At the top of our list of the best smelling colognes for men is this Bali-inspired eau de parfum from Blu Atlas. Made for the bold, adventurous man, Atlantis has a fresh and clean yet complex fragrance profile, and stays on the skin all day long. This confidence-boosting scent makes an impact without being overpowering, making it just as appropriate for the office as it is for a night out on the town.
This eau de parfum starts with crisp top notes of lemon and bergamot, which are joined by the bright and woody smell of blackcurrant. In the middle, notes of peach and apricot are paired with fresh herby notes of lavender and clary sage. As the scent continues to absorb into the skin, you'll experience the warm, earthy aromas of orris, oakmoss, violet, ambrette seed and musk.
We love the fascinating and versatile scent, and we're also fans of the modern and minimalist matte black bottle and the magnetic cap. The reasonable price is on point for a fragrance that you'd want to wear on a daily basis. Bonus: The formula is vegan and cruelty-free, made in accordance with industry clean standards, and doesn't contain any parabens, preservatives, phthalates or synthetic dyes.
2. Tom Ford Tobacco Vanille
This one is for the man looking for something warm and a bit mysterious. Tom Ford's Tobacco Vanille was first launched in 2007, and it continues to be one of our favorite spicy scents for 2023. It's an irresistibly sweet yet masculine unisex eau de parfum that is particularly well suited for date night, special events and cooler weather. It also has incredible staying power, so a single application will last you from morning till night.
Tobacco Vanille opens up with top notes of smoky and spicy tobacco leaf and ginger. These are joined by rich, sweet middle notes of vanilla, tonka bean and cacao. Notes of dried fruit and wood round out the base of the perfume.
This Tom Ford fragrance is packaged in a bold yet classic dark brown glass bottle that's reminiscent of a chess piece. While it's certainly a luxury cologne, the opulent scent and the impressive longevity make it worth the splurge.
3. Le Labo Another 13
Santal 33 is undoubtedly one of Le Labo's most coveted scents, but this year we're turning to another irresistible fragrance in the company's lineup. Another 13 is a woody and musky eau de parfum that's balanced by crisp notes for an elegant fragrance profile that is suitable for all seasons and occasions. We've found that it also has great longevity, making this more expensive luxury EDP worth the higher price point.
At the top, Another 13 opens with fresh and fruity notes of pear, citrus and apple. As the fragrance settles, earthy and warm middle notes of ambrette, jasmine petals and moss emerge. The base perfectly rounds out the fragrance with notes of musky ambroxan and wood.
Just like Santal 33 and other fragrances in the Le Labo collection, Another 13 is packaged in the company's timeless hand-labeled clear glass bottle. Of course, we also love that this fragrance is vegan, cruelty-free and paraben-free.
4. Creed Aventus
Aventus is an eau de parfum from Paris-based perfume brand Creed. After its launch in 2010, it quickly became the company's best-selling fragrance, and continues to be one of the top luxury products in the cologne industry to this day. This complex scent layers rich and fruity notes for an unexpected yet powerful fragrance profile. Aventus is one of the most expensive options on the list, but for the fragrance aficionado looking for something special, it's a splurge-worthy treat.
Aventus opens up with fruity top notes of apple and pineapple, which are paired with citrusy bergamot and woody and subtly fruity blackcurrant leaves. In the middle, pink berries add another fruit-forward layer. The middle notes also include floral jasmine and woody and earthy patchouli and birch. This EDP warms up at the base, which includes notes of musk, ambergris, oakmoss and vanilla.
This Creed fragrance has long-lasting staying power, and is a suitable choice for a year-round cologne. It's packaged in a timeless yet uniquely shaped hand-labeled glass bottle.
5. Prada Luna Rossa Sport
Another one of our top spicy amber cologne recommendations is Luna Rossa Sport from Prada. This sophisticated eau de toilette is inspired by the adventurous world of extreme sailing, and is the perfect match for any man with a daredevil streak.
Luna Rossa Sport starts with top notes of fruity juniper berries and spicy ginger, which are layered with a middle note of floral lavender. At the base, tonka bean and vanilla add a warm and sweet depth to the fragrance profile.
Despite it being an EDT, we found that this Prada fragrance – which is an appropriate year-round cologne – lasts for an impressive amount of time on the skin. We love the sleek and modern design of the silver and red bottle, as well as the reasonable price point.
6. Byredo Black Saffron
Black Saffron is an irresistible fragrance that takes inspiration from the founder of Byredo's Indian upbringing. The unisex eau de parfum has a rich fragrance profile that is particularly suitable for bringing warmth to your style in the fall and winter as the weather becomes crisp and cool.
Black Saffron starts off on a spicy and fruity note, with layers of juniper berries, citrusy pomelo, and leathery and earthy saffron. Middle notes include floral black violet and cristal rose, as well as accord cuir, which adds an additional dry, leather-forward layer. At the base, fruity and sweet raspberry is joined by earthy vetiver and blonde woods.
We're big fans of the signature minimalistic bottle that Black Saffron (and the many other Byredo scents) is packaged in. This is another fragrance that is on the higher end of the price range, but the uniquely warm scent profile continues to be a hit among men.
7. Cremo Spice & Black Vanilla
As you've probably noticed, many of the most popular and best smelling colognes are on the more expensive side of the price scale. However, that doesn't mean you have to overspend to smell amazing. For the budget-conscious man, there is Spice & Black Vanilla from grooming company Cremo, which offers a high-end scent at a reasonable price. This vibrant and woody eau de toilette is an amazing daily fragrance for fall and winter. It has impressive staying power (especially for an EDT), which makes this affordable cologne a win-win.
Spice & Black Vanilla has a top note of cardamom, which is responsible for the enticing spiciness of the scent. The middle note is musky cashmere wood, which is expertly layered with warm and sweet bourbon vanilla and earthy vetiver at the base.
This Cremo fragrance is packaged in a simple rectangular clear glass bottle and topped with a silver cap. While subdued, it's a classic design that is sure to stay in style.
8. Carolina Herrera Bad Boy
This Carolina Herrera eau de toilette has a captivating scent with expertly layered warm and spicy notes. It has good longevity, and the inviting fragrance profile makes it one of our top picks for a date or a night out on the town. Because of its warm, intense aroma, this magnetic EDT is also a great choice for cooler seasons.
Bad Boy opens up with top notes of both black and white pepper, as well as zesty Italian green bergamot for a bright start. Once the cologne settles into the skin, middle notes of cedarwood begin to emerge, as do notes of earthy and herby clary sage and vetiver. At the base, spicy tonka bean and cocoa add a warm layer to the fragrance.
Of course, we can't forget to talk about the packaging, which is just as bold as the scent. The lightning-shaped bottle is playful and fun, but the simple black coloring and gold accents help ground the design for a sleek, modern style. It's perfectly balanced, just like the scent.
9. Gucci the Alchemist's Garden The Last Day of Summer
If you are a person who longs for sunny summer days in the heart of winter, this expertly crafted eau de parfum from Gucci was made for you. The woody unisex fragrance has green, earthy notes that evoke memories of warm days spent outside in nature. While the freshness is certainly fitting in the spring and summer, we found that the thoughtfully layered EDP also works well in the cooler seasons.
The Last Day of Summer opens up with a note of cedarwood, which is blended with mossy and earthy cypress and spicy nutmeg in the middle. The earthiness continues with the base notes, which include vetiver and patchouli.
The luxurious bottle, which was inspired by the perfume containers used in old-school apothecaries, is also one of our all-time favorite designs. The white lacquered glass creates a porcelain effect, and the gold accents add an opulent touch.
10. Maison Margiela Replica Jazz Club
The fragrances in Maison Margiela's Replica line were crafted to help you relive moments and evoke emotions through the power of scent. As you can guess by the name, this eau de toilette transports you to a cozy jazz club in Brooklyn, where scents of rich cigars and bourbon waft through the air.
Maison Margiela's Jazz Club starts with top notes of vibrant pink pepper essence, coupled with zingy Primofiore lemon oil and neroli oil. These scents are expertly layered with rum absolute in the middle, which adds a sweet and aromatic characteristic to the fragrance. Two other middle notes – clary sage oil and java vetiver oil – bring in green, woody, mossy freshness.
The base notes in Jazz Club include smoky and herbaceous tobacco leaf absolute, as well as sweet and comforting vanilla bean. These base notes, along with woody styrax resin, add depth and warmth to the complex fragrance.
This spicy and warm unisex fragrance is one of our favorite scents to wear on a cold day. While it's an EDT, this rich scent has great staying power. We also give the simple and clean apothecary-inspired packaging a 10 out of 10.
11. Jack Black Blue Mark
Men's grooming company Jack Black generally hits it out of the park with its products, and this eau de parfum is no exception. This refreshing and bright cologne is appropriate for a range of occasions, whether you want to wear it to the office, to a special event, or just out to the bar. While the freshness is more reminiscent of spring and summer, this expertly made fragrance can be your signature scent all year long.
Jack Black's Blue Mark opens up with citrusy bergamot, which is paired with cooling watermint and herby cilantro. The middle notes include green and earthy scents of Japanese juniper and vetiver, as well as spicy and bold ginger. Once you get to the base notes, you'll enjoy earthy patchouli and white woods.
While the cologne is packaged in a classic and simple square bottle, the bright blue glass makes a serious statement. The reasonably priced EDP also gets bonus points for being cruelty-free and made without phthalates, parabens and sulfates.
12. Jo Malone London Myrrh & Tonka Cologne Intense
Another sweet and warm cologne that is loved by both men and women is the always intoxicating Myrrh & Tonka from London-based Jo Malone. This long-lasting unisex cologne has an amber-forward fragrance that is well suited for the fall and winter.
Myrrh & Tonka opens with a note of lavender, a clean, green freshness that contrasts nicely with the richer notes in the blend. In the middle is myrrh, which has sweet balsamic characteristics. Base notes include spicy and sweet tonka bean and vanilla, as well as nutty almond.
If you've read about Jo Malone, you may be aware that the company's scents are created to be layered. While you can certainly wear Myrrh & Tonka on its own, consider pairing it with other well-loved scents in the brand's range, such as Basil & Neroli. Jo Malone also offers a body lotion and shower oil in the Myrrh & Tonka scent, which you can use alongside your cologne to maximize the power of the fragrance.
13. Versace Dylan Blue
For the man looking for an earthy and woody signature scent with aquatic notes, Versace's Dylan Blue is one of the best options available on the market. While it might seem like more of a spring and summer fragrance at first, the inclusion of warm amber-leaning tones makes this an excellent cologne for year-round wear. Along with the fact that it has excellent longevity, we think that this eau de toilette is worthy of being any man's signature daily scent.
Dylan Blue starts with top notes of citrusy Calabrian bergamot and grapefruit, which are layered alongside green fig leaf and water notes for a bright, refreshing start. The fragrance warms up in the middle with musky ambrox, which is blended with green and earthy patchouli, papyrus, black pepper and violet leaf. At the base, the fragrance gets richer with notes of musk, incense, tonka bean and saffron.
In addition to the scent and its staying power, we give this EDT high marks for the thoughtfully designed statement making packaging. The deep-blue geometric glass bottle is reminiscent of the ocean, and the golden Medusa medallion adds a luxurious touch.
14. Dior Sauvage
Influenced by energizing wide-open spaces, this eau de toilette from Dior takes its cue from the great outdoors. The woody, citrusy, ultra-fresh cologne is a beautifully layered fragrance that can transition well from morning to night, as well as from season to season.
Sauvage opens with notes of zingy Calabrian bergamot and spicy pepper. Middle notes include fresh and earthy aromas of lavender, geranium, vetiver and elemi. The spiciness continues with the addition of pink and Sichuan peppers. At the base, musky ambroxan is paired with dry woody cedar and ambery labdanum.
For an EDT, Sauvage has impressive staying power, which is likely why it has remained one of the most sought-after colognes since it was introduced to the market in 2015. The bottle is also simple yet modern, and made with ombre dark blue glass and a sleek black top. Dior gets bonus points for launching a refill program, which allows you to reuse your original bottle to help cut down on unnecessary waste.
How to Select the Right Cologne for You
Have you looked through the list above, and still haven't made a decision? Are you torn between a few options and don't know which one is the best for you?

Choosing a cologne can be a difficult process. So here are some tips and helpful information regarding the basics, so that you can make an informed decision before you make any purchases.
EDC versus EDT versus EDP versus Parfum: Breaking It Down
Before choosing a cologne, it's important that you understand the different fragrance concentration types. You'll get varying results depending on what you choose, so you'll want to know what works best for your specific lifestyle needs and personal preferences.
The lightest option is an eau de cologne (EDC). EDCs have a 2% to 4% concentration of fragrance oils, and will typically last on the skin for one to two hours. That said, depending on the formula and how the fragrance wears on your skin, you may be able to get better longevity out of some EDCs.
Eaux de toilette (EDTs) have a concentration between 5% to 15%, and will last on the skin for around three hours. Again, this can depend on the formula and your skin.
Next up is eau de parfum (EDP). EDPs are one of the most popular options, as they have lasting power without being too expensive. They have a 15% to 20% concentration of fragrance oils, and will stay on the skin for approximately four to five hours.
Parfums have the highest concentrations of fragrance oils at 20% to 30%. These have the strongest staying power of the four, but since they are so concentrated, they can be pricey. Some men may also find that they're too strong for daily wear. That said, a parfum may be a good option for special occasions.
What to Keep in Mind When Shopping for Your Cologne
In order to pick the best cologne for your specific needs, it's essential that you keep a few things in mind as you shop around. Perhaps most importantly, you need to consider when and where you'll be wearing your fragrance.
Is this an office scent that needs to be clean and non-obtrusive, or an inviting date night scent that can be a bit more playful and bold? Or, are you looking for something in between that can serve as your signature cologne regardless of the location or event? Knowing exactly how you'll be using your cologne will help you more quickly sort through the endless options on the market so that you can find your perfect match.
Beyond that, you can speed up the shopping process by having an idea of what types of notes you like. For example, if you are drawn to the bright and crisp scent of citruses, look for notes like bergamot, lemon and grapefruit. Alternatively, if you want something with more warmth and depth, seek out notes like vanilla, tobacco and amber.
While you don't have to be an expert in the world of fragrance notes and families, some basic knowledge of your personal preferences can be a major help.
As a final note, keep in mind that the same fragrance will smell different on different people. You'll also notice that the scent profile can change when you spray it in the air at the store versus when you spray it on your skin. Everyone has a unique skin and body chemistry, which can be related to pH balance, hormone levels and how dry or oily your skin is. All of these factors can influence how a fragrance develops and reacts once it hits your skin, which is why the same fragrance may smell completely different on you than it does on your friend. With all of this in mind, it is a smart idea to spray your cologne on your skin (rather than on a testing paper or in the air) to test out how it wears.
Top Tips for Applying Your Cologne
Once you've found a cologne that embodies your style, you'll need to know how to expertly apply it. Using the best application techniques, you'll be able to extend the longevity of your scent, which means you'll get the most value from your cologne – which is especially helpful when it comes to pricier fragrances.
First, be sure to spritz your cologne on pulse points, which includes the inner wrists, inner elbows, neck, chest and back of the knees. These spots are naturally warmer, and that warmth helps project the scent. Important note: Don't apply your cologne to all of these spots. Just two or three sprays should do the trick.
Once you spray your cologne, avoid rubbing the area before the fragrance dries. While it is a common habit to rub your wrists together after spraying, this can negatively affect how the scent develops. It will cause the top notes to evaporate more quickly, which ultimately means you won't get as much wear time.
It's also important that you spritz directly onto the skin, rather than spraying your cologne into the air and walking through. Ultimately, much of the product ends up falling to the floor and going to waste. By doing this, you aren't maximizing the staying potential of your cologne, since you aren't focusing it on your pulse points.