The Best Face Washes in 2023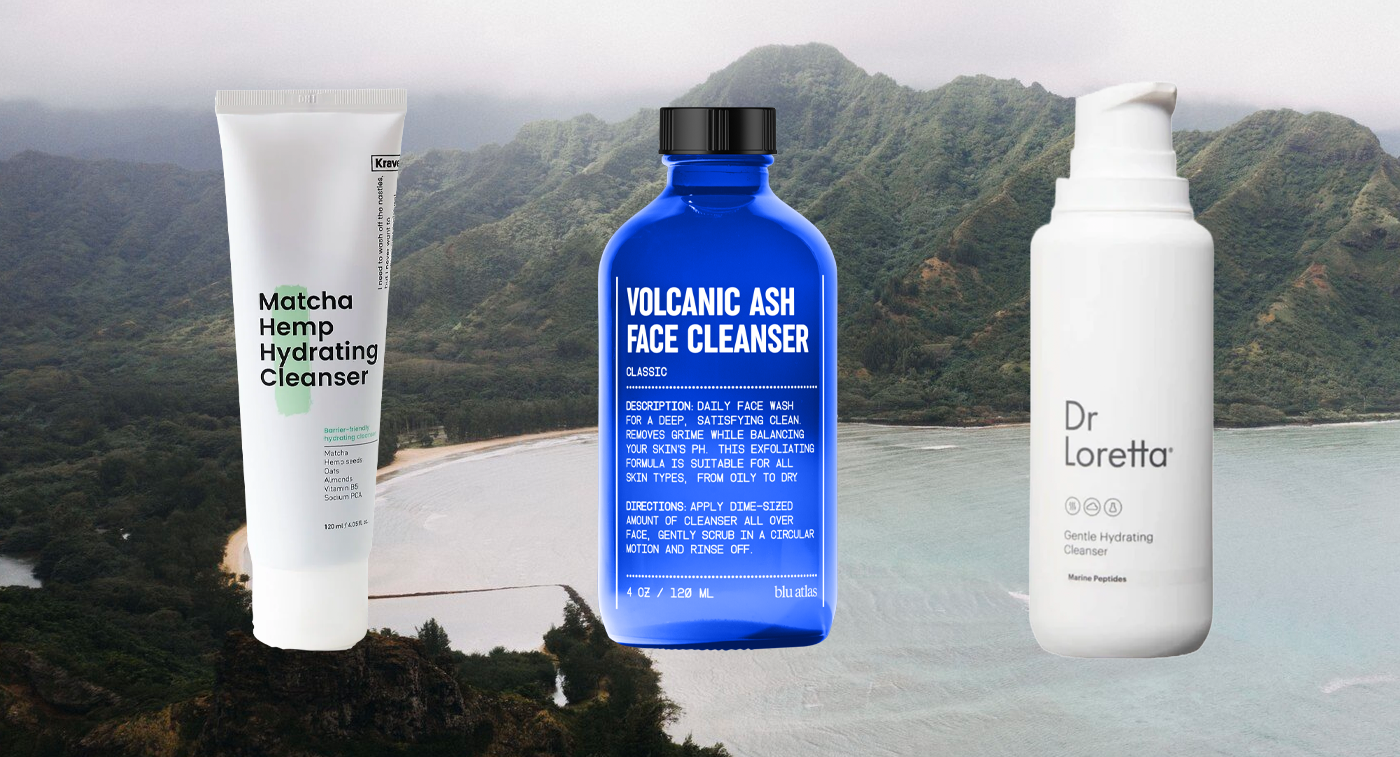 Face washes are cleansing, refreshing, and an essential part of your grooming routine – and there are thousands available on the market, ranging from foam cleansers to oils and creams. So, how do you choose the right product?
With so many formulas and types available it can be hard to know where to start. So, to get you going, we've counted down our top 18 face washes of 2023. Whether you have dry, normal, combination or oily skin, there's a product out there that's perfect for you!
From New York skincare and haircare brand Blu Atlas, this cleanser is detoxifying and exfoliating – meaning it both cleans and moisturizes your skin. It's gentle enough for daily use, while still providing a deep clean. The great news is all skin types can use this cleanser, including people with sensitive skin.
Ingredients include bentonite (volcanic ash) which helps to remove oil and impurities from your skin, and pomegranate oil, which has antioxidant, anti-inflammatory, and anti-ageing properties. The third natural ingredient is lactobacillus ferment filtrate, which helps to strengthen and soothe the skin, and supports the skin's microbiome. Like other Blu Atlas products it is sulfate, paraben and phthalate-free. It's also vegan, and made without animal testing.
If you're looking for a new everyday cleanser this is one of the best face washes to try. It comes in classic, coconut apricot and fragrance-free varieties.
2. Krave Matcha Hemp Hydrating Cleanser
This cleanser is extremely popular and is designed to leave skin clean, nourished and hydrated. This means that you shouldn't get that tight or ultra-dry feeling that many cleansers leave you with after use.
Krave uses cold-pressed hemp seed oil, which acts as a moisturizer and an emollient. The other key ingredient is matcha (a type of powdered green tea which is also rich in antioxidants) and it also contains sodium PCA for intense hydration. The face wash also contains coconut-based surfactants, to cleanse and emulsify oils.
This facewash is particularly good for oily skin, but it's suitable for most skin types. Customers with sensitive skin, acne-prone skin and dry skin also rave about how effective and gentle it is. Along with all this, it's also vegan and cruelty-free. If you're a heavy makeup user however, you might have to invest in a makeup remover to use before using this cleanser – to ensure that everything is removed from your skin.
3. Dr Loretta Gentle Hydrating Cleanser
This high-end cleanser is a little expensive, but it provides some great results and is enjoyable to use. The herbal fragrance (it contains chamomile) is calming, and the cleanser itself is soothing and moisturizing. It's designed for dry and sensitive skin.
Although it feels gentle, it's also heavy-duty enough to remove thick makeup as well as oil and grease. And the best part is, it leaves your skin feeling not only clean but softer and more refreshed. You can use either as a regular cleanser, or as a detox treatment (just leave it on for a few minutes).
Ingredients include algae and marine peptides – and it is great for you and the environment, with no sulfates, parabens, and silicones.
4. Philosophy Purity Made Simple One Step Cleanser
This top-rated and award-winning cleanser from American brand Philosophy contains a scrumptious blend of natural plant oils, including meadowfoam seed oil, which has excellent emollient and moisturizing properties. It also includes carrot oil, which is packed full of vitamins A and E, and rosewood oil, which is rejuvenating and anti-inflammatory. It's gentle enough to use on all skin types, including sensitive skin, and should leave your skin feeling super soft.
This product is high-end, but worth the money – a little lasts a long time, and customers say that despite how gentle it is, it is very effective at removing makeup. It's also free from parabens, sulfates and phthalates.
5. Blueland Facial Cleanser
Blueland is an eco-friendly brand, rather than selling single-use bottles you can get a subscription, and be provided with refillable pouches of powder which you can combine with water to create this gel cleanser. It's full of clean, gentle ingredients including oats, kaolin clay, and vitamin E. It's ph balanced and customers describe its effect as "rejuvenating".
Blueland is marketed towards people with sensitive and combination skin, with customers saying it leaves their skin feeling smooth and moisturized. The only downside of this cleanser is it's so gentle that it might not be suitable for people who use makeup regularly. It is free from parabens, sulfate, silicone, PEGs and phthalates, and it's also hypoallergenic, vegan, and gluten-free.
Perfect for someone who is environmentally-conscious and who has a sensitive complexion.
6. Innisfree Hydrating Cleansing Foam with Green Tea
Great for people who suffer from hyperpigmentation, this cleanser will even out your skin tone, as well as removing dirt, grease and makeup. Customers say it's very effective at reducing dark spots, if you follow the instructions on the label.
Green tea is the magic ingredient in this cleanser: it supports skin barrier function and retention as well as elasticity, it's full of antioxidants, and acts as an anti-inflammatory. Green tea is even reputed to be good if you're struggling to find a product to help with acne.
This cleansing foam is most suitable for normal, combination and oily skin – but people with skin that is very dry or sensitive should be cautious, as they may find it causes some irritation. It can be followed by green tea hydrating serum, toner, balancing emulsion and balancing cream to create a full skincare regimen.
7. Tula The Cult Classic Purifying Face Cleanser
This probiotic and prebiotic formula also includes turmeric, white tea and blueberry, which work together to rebalance your skin's texture. It's specifically designed for people with enlarged pores, a condition that affects people who have larger hair follicles, less elasticity and/or more oily skin. It's important to find a cleanser that can unblock those pores so oil and grease doesn't hang around and make skin worse.
Customers say this cleanser improves the aesthetic appearance of blocked pores and leaves their skin feeling thoroughly clean. However it is also quite gentle, so if you are someone who wears heavy makeup you should also find a suitable makeup remover to use first. This cleanser is formulated without several controversial ingredients including parabens, sulfates, phthalates, mineral oil and petrolatum, formaldehyde, gluten and silicons.
8. Kiehl Calendula Deep Cleansing Foaming Face Wash
This product is one of the best face washes for people who have acne. Rather than using harsh chemicals to treat the complaint, the main ingredients of this face wash are glycerin and calendula flower extract. Calendula is commonly used in sunburn care products, so it should soothe your skin and reduce inflammation and redness around your acne. The formula gets rid of excess oil and sebum that clogs pores, and it's good at removing makeup.
It's alcohol, paraben and sulfate free – and customers say they see results, however the face wash needs to be used consistently for a period of weeks. It is recommended for those people with combination and oily skin.
9. Joanna Vargas' Vitamin C Face Wash with Salicylic and Hyaluronic Acid
This is another product that's often recommended for acne sufferers: it's infused with vitamin C and also contains salicylic acid, a common acne treatment. Vitamin C is present through acai, goji berries and cranberry extracts: and it's designed to even out your skin, brighten dark spots, and even reduce scarring. Other ingredients include witch hazel, which is antioxidant rich and great for your pores.
Some of the chemicals in this face wash are quite harsh, so it's probably best not to use it unless you actually need a product that targets acne. The vast majority of customers at Joanna Vargas have left positive reviews of this product, saying it leaves their skin feeling much smoother and more hydrated. It's paraben, sulfate and phthalate free.
10. FRESH Seaberry Skin Nutrition Cleansing Oil
An alternative to foaming or lotion cleansers, this oil contains seabuckthorn oil (rich in antioxidants), as well as cranberry oil (which contains essential fatty acids to nourish the skin), rosemary extract (to soothe skin and reduce irritation) and camellia oil (a great emollient and moisturizer). It also has orpheus flower extract, which is anti-inflammatory and antioxidant.
This cleansing oil is recommended for those with dry skin. Customers report it's great at removing makeup, and people who use this product often say they're left with rejuvenated and replenished skin. It's paraben and sulfate-free.
11. CeraVe Hydrating Cream to Foam Cleanser
This product is a household name and it's highly recommended for combination skin – it lathers into a hydrating foam, and cleans skin, leaving it feeling refreshed without feeling dry or tight. CeraVe uses MVE technology, encapsulating ceramides (fatty acids that make up the outer layer of the skin). It's a brand we can trust so it has earned its spot on the best face washes in 2023 list.
It also contains hyaluronic acid, which helps the skin to retain moisture, and vitamin B3 to reduce redness and inflammation, and make the skin feel smoother. The formula is fragrance-free and unisex.
12. Avène Extremely Gentle Cleanser Lotion
With Avène thermal spring water as its main ingredient, this cleansing lotion is suitable even for those of you with the most sensitive skin. It's non-comedogenic (it won't clog pores) and also free from soap, parabens and fragrance. It's unisex – men with sensitive skin can use this without worrying about smelling too floral or feminine. This cleanser also contains Avene's other special ingredient, parcerine, which helps to reduce irritation and dryness.
Avène Extremely Gentle Cleanser Lotion is billed as being suitable for makeup removal – but if you use heavy makeup you might need to have something stronger handy, just in case. People with oilier skin can use this cleanser but they might also find they need something heavier duty.
13. Cetaphil Gentle Skin Cleanser
Another highly popular cleanser, Cetaphil is easy to find and can usually be purchased at the pharmacist or in the supermarket. It's designed for use on all skin types – it's strong enough to remove light makeup, oil and dirt but it's non-irritating and pH balanced. It's also non-comedogenic, so it won't clog pores.
Rather than a foaming cleanser, Cetaphil is more lotion-like – it's easy to wash off and has a faint, pleasant fragrance. It does leave your face feeling slightly tight, so it's a good idea to always follow this one with a mild moisturizer (particularly if your skin is prone to dryness). With no soap or parabens, this is a safe choice for sensitive skin.
14. Youth to the People Superfood Antioxidant Cleanser
This cleanser contains kale, spinach and green tea, it's like we're describing a smoothie! It's very high in antioxidants and protects skin from environmental damage. It's free from parabens, sulfates, and phthalates, and it's cruelty-free and vegan. With a fresh, herbal scent, it's a great morning boost for superfood fans, and it comes in a reusable glass bottle.
This cleanser is marketed towards all skin types. Most customers, particularly those with combination/normal skin say it works very well. However, people with very dry skin may be better off choosing a more hydrating product. If you're prone to skin problems (e.g. dermatitis, acne) it is recommended to do a patch test first.
15. Tatcha The Rice Wash Soft Cream Cleanser
This high-end cleanser is based on a centuries-old approach to skin care– it's made with Japanese rice bran, which contains antioxidants and amino acids. Other ingredients include Hadasei-3 complex (akita rice, kyoto green tea and okinawa algae ) along with camellia oil and almond oil (which acts as an antioxidant, anti-inflammatory and a great moisturizer). It promises to leave your skin supple and extra-hydrated.
A large number of customers have given this product great reviews – but those with very sensitive skin occasionally say it causes irritation and breakouts, and to use it with care. It's free from parabens, sulfates, mineral oil, synthetic fragrances and phthalates.
16. Burt's Bees Sensitive Facial Cleanser
You're probably familiar with Burt's Bees for their chapstick and lip gloss range, but they also manufacture other skin and beauty products. This is marketed towards all skin types (particularly sensitive skin). Ingredients such as coconut oil, cocoa butter rice extract, aloe vera and cotton extract help to hydrate your complexion. It's cruelty-free and free from artificial fragrances, and it's also paraben, SLS and phthalate free. It has a very light, barely-there scent.
Customers say this cleanser is particularly good for combination, dry and normal skin, it provides intense moisture and it's effective at taking off light makeup – however it takes some time to rinse off in the mornings, as it is a very thick, creamy mixture.
17. ELF Holy Hydration! Daily Cleanser
This very affordable cleanser is terrific value for money, and proof that when it comes to beauty products, more expensive doesn't always equal better. It's part of a range of hydrating products from ELF, specifically designed for dry or aging skin. Active ingredients are hyaluronic acid, which helps the skin retain moisture, and ceramides.
Customers are very positive about this cleanser, and about its feminine and floral scent which can remain after rinsing. Some reviews also suggest using a makeup remover or the cleansing balm from this range first if you use heavy makeup, so no traces are left behind. It's vegan and cruelty-free, and also paraben, sulfate and phthalate free.
18. The Body Shop Aloe Calming Foam Wash
The Body Shop is a go-to for many people, with their range of perfumes and scented body washes. Their skincare range is also worth a try, this foam-based cleanser will calm even the most sensitive skin. The main ingredient, aloe vera, is sustainably farmed and harvested in south-east Mexico. An effective, everyday cleanser suitable for men and women.
Frequently asked questions
What are the different skin types, and how do I know which one I have?
There are five different skin types: normal, oily, dry, combination and sensitive. Skin often tends to change in adolescence due to hormonal changes, and then again in adulthood.
If your skin feels tight, you feel like you need to wear moisturizer all the time – and if you're maybe prone to developing temporary fine lines – then you likely have dry skin. This skin type is more common in women than in men, and the key is to find a good hydrating cleanser that will cleanse your skin without stripping it of all moisture. Your dry skin will probably become more pronounced in the autumn and winter months, and require more intense hydration, so make sure you invest in a moisturizer too.
The opposite skin type, oily skin, is usually pretty easy to spot – if you skip a day of cleansing, your skin might have a slightly greasy look and feel. People with oily skin are also more prone to developing blocked pores and spots. To keep your skin clean and fresh, you might have to use a cleanser twice a day – particularly if you also wear heavy makeup. A non-comedogenic cleanser followed by a light moisturizer is a good option for your skin type.
Combination skin skin is a mixture of dry (or normal) and oily – your cheeks and chin area might be smooth and unblemished, but you may have greasiness and clogged pores on your forehead and nose. This type of skin is very common, particularly in adolescence, and it can often be temporary. It can be tricky to care for, but there are products out there specifically marketed towards combination skin.
If your skin is even in tone, radiant and blemish-free, then congratulations – you have normal skin! A light cleanser is all you really need, but if you habitually wear makeup then you might need to look at something slightly stronger.
If you can't use many cleansers or even products like shampoos and conditioners without developing skin rashes or breakouts, then you probably have sensitive skin. Look for products that have more natural ingredients, and avoid harsh chemicals. Non-comedogenic cleansers are a good choice for this skin type, and it's best to stay away from harsher, acne-fighting ingredients unless you absolutely need to use them.
How do I build a skincare regime?
A basic skincare regime traditionally involves cleansing, toning (prepping your skin for moisturizer) and moisturizing. After picking a cleanser, many people skin the second step – but if you have time, there are lots of toners to choose from. Look for a toner that has ingredients like hyaluronic acid (to boost hydration and subtly treat fine lines) rosewater and green tea, and/or antioxidants vitamin E and C.
After toning, but before you apply a moisturizer, you could also look at using a serum. Serums are concentrated doses of active ingredients: and you get serums that focus on everything from giving your skin a vitamin C boost, reducing wrinkles or dark spots, or providing intensive moisture. Don't mix your serum into your moisturizer – it's important it's absorbed into your skin before you moisturize, so you can reap all the benefits.
Moisturizing is the final step in your skincare regime, before you either apply makeup or head out the door. There's a huge variety of moisturizers out there to try – ranging from gels (recommended for people with oily skin) to lotions and balms. If you have very dry skin, then a thick, deeply hydrating cream is a good idea. Many moisturizers (and some beauty products such as foundations) contain sunscreen, a great idea if you spend a lot of time outside.
Skincare shouldn't stop when you leave the house in the morning – experts say regularly sleeping in makeup can damage your skin and make you more prone to developing acne, so if you wear a lot of skin products like concealer, foundation, eyeshadow, bronzer or blusher, another round of cleansing and moisturizing is needed when you come in in the evening.
If you're worried about wrinkles, dryness and under eye puffiness, it's also a good idea to apply a night cream and/or a good eye cream right before you go to bed at night. These products aren't just for women – increasingly, manufacturers are making night creams, eye creams and serums for men, along with cleansers, toners and moisturizers.
When it comes to cleansers, are natural ingredients better?
It all depends: some of the best face washes in 2023 are made primarily with natural ingredients, and they're often great for people with sensitive skin. There are also products out there that draw on ancient and valuable knowledge from other cultures when it comes to skincare.
Which face wash is right for you, however, will ultimately depend on your individual circumstances. If you have a skin condition such as eczema or acne, some cleansers out there might not necessarily deliver the results you want. This is because natural ingredients like essential oils, as well as harsher synthetic ingredients, could actually make your issues worse. If you have skin that requires careful treatment, it's always best to consult a dermatologist or doctor first, to get a sense of what you need. If your skin is problem-free on the other hand, you can have fun experimenting with the ever-increasing range of natural formulas and fragrances out there!
In addition to natural ingredients becoming more common, it's becoming increasingly common for manufacturers to avoid using parabens, phthalates and sulfates (SLS). Parabens and phthalates can disrupt the body's endocrine system, causing hormonal imbalances, while sulfates can cause dryness and irritation. Many consumers (particularly those with sensitive skin) try to avoid these ingredients if they possibly can, and fortunately beauty brands are responding to demand.
How does skin change with age?
As we age, our skin loses collagen and elastin, meaning it becomes more fragile, and less supple. This inevitably causes lines and wrinkles. Many anti-aging creams and eye creams attempt to prevent further damage via the use of collagen. When it comes to skin, there are other things that can slow the aging process down, or speed it up:
UV light.

When we're young, our skin can repair itself more quickly after sun damage. But older skin becomes tanned, wrinkled and weathered more easily due to sun exposure, aging us beyond our years. However old you are, it's a good idea to be sun safe – wear sunscreen in the summer months, or at least look into a moisturizer that includes it.

Decrease in the production of oil (sebum).

Skin always becomes drier as we get older: younger people with oily skin are unlikely to have it into their old age. Loss of sebum can make skin more prone to irritation and sensitivity. It's important to pick a good moisturizer so your skin stays hydrated; and remember to drink plenty of water.

Smoking.

Smoking produces free radicals, which lead to premature wrinkles as well as other issues with the body.

Diet.

Diet can affect how slowly (or quickly) our skin ages. Sugar, processed foods and unhealthy fats can cause more rapid aging, whereas consuming a diet high in vitamins and antioxidants (such as vitamin C, D and E) can slow the process down. Leafy greens, carrots and sweet potatoes along with fish, egg yolks and mushrooms are good sources of nutrients that are beneficial to your skin.
There are all sorts of anti-aging products available, but when it comes to helping your skin out, leading a healthier lifestyle is a great starting point – and it's never too late to form good habits.