The Best Eye Creams for Dark Circles (2023)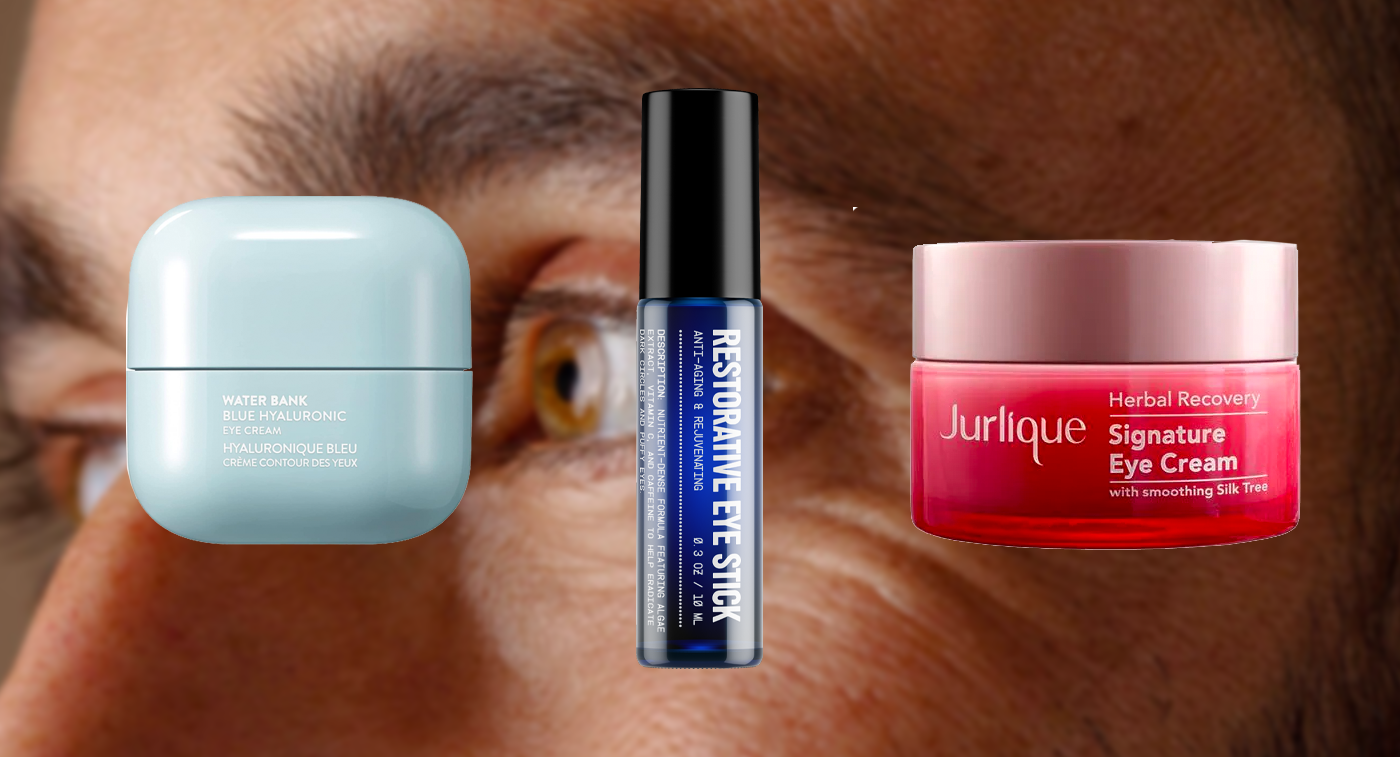 Are you tired of looking like a panda bear? Dark circles under the eyes are a nuisance for many people and can often seem to persevere no matter how much beauty sleep you're getting.
While homemade remedies like cucumber slices and lemon juice work for some, they all too often fall short of banishing these bag-shaped blemishes. If your dark circles just aren't budging, then it is probably time to turn to high-quality eye cream. For this list, we've picked the very best eye creams specifically for their positive impact on the pesky problem of dark circles.
Before we begin, note that we won't be mentioning dark circles in every entry. We figure that, with 16 different recommendations, doing so would get tediously repetitive. Plus, these products have so many other brilliant benefits to mention! Just know, in advance, that every eye cream on this list will help make history of your dark circles, whether we specifically point it out or not.
Topping our list of the best eye creams for dark circles in 2023 is Blu Atlas Restorative Eye Stick. It's here at the top spot for one reason and one reason only: out of all the products we've tried, this modest stick simply did the best job of treating dark circles. In fact, it doesn't just "treat" dark circles, it totally wipes them out— and in a matter of days, too! That's right, go with Blu Atlas and we're betting you can ditch that concealer for good; instead, let your natural, healthy skin flaunt its beauty and youth.
What's the secret to creating a product this revolutionary? It's simple, really: quality ingredients from natural origins, carefully balanced in a dermatologically informed formula. It's not rocket science, just smart, honest skincare.
First on the ingredients list is rose water; yes, your grandma was right about this miracle elixir all along! Primarily, rose water takes on the soothing and calming duties, making for a feel-good application that will quickly reduce redness and irritation of the skin. It also helps to moisturize, tighten, and tone.
Second, we have coffea canephora, known in plain English as sub-Saharan coffee. These beautifying beans are not only packed with antioxidants, they help stimulate blood flow in the eye area, dispersing oxygen and nutrients that will help eliminate those dark circles and that stubborn puffiness. Finally, a healthy dose of vitamin C boosts collagen production and provides swift brightening, making your peepers shine with vitality.
Blu Atlas Restorative Eye Stick is not just the best dark-ring-banishing product on this list—it's also one of the most budget friendly. So why wait? Wave bye-bye to those dark eyes and usher in a new era of bright and beautiful baby blues.
2. Laneige Water Bank Blue Hyaluronic Eye Cream
Don't be fooled by the cuteness and cuddliness of the adorable characters that Laneige have invented to promote their brand, this is a company that's dead serious about skincare. They deliver products that pack a heck of a punch.
When it comes to banishing dark circles under the eyes, their Water Bank Blue Hyaluronic Eye Cream is among the most effective products on the market. It even has a record of complete customer satisfaction from the 31 women who initially tried the cream.
This eye cream achieves its alleviation of dark circles thanks to healthy doses of glutathione and blue hyaluronic acid. These two ingredients brighten the skin by reinvigorating it with antioxidants and hydration. It's like giving your eyes a mini spa day, leaving them looking refreshed and radiant.
On top of this, caffeine will quickly diminish any associated puffiness, improving elasticity, and consequently shrinking back any sag into a glowing smoothness. For all of its power, this is actually considered a mild formulation in terms of potential irritation to the skin, so sensitive types need not hesitate before reaching for this top-notch product.
3. Jurlique Herbal Recovery Signature Eye Cream
Here's a skincare company with a commitment to botanicals unlike any other. Believe it or not, Jurlique grows all of their botanical ingredients, from seed to sprout to bloom, on a gorgeous biodynamic farm in South Australia. If you happen to be down under, you can even take a guided tour of its beautiful vistas!
Jurlique's approach to skincare is one of cooperation with nature, utilizing botanicals that are known to have beneficial effects on the mind, body, and skin. These plants are harvested by hand at the peak of their potency and processed with love to extract their essence for use in high-performance, natural-based skincare products.
This eye cream in particular nourishes and soothes with four key ingredients from the Jurlique biodynamic farm. Yarrow helps to smooth the skin, reducing the appearance of fine lines and wrinkles. Wild pansy is included for its wealth of antioxidants and ability to protect the skin from environmental harms. Lavender combats dryness of the skin while providing the sublime aromatherapy that this herb is famous for. Finally, silk tree extract takes care of dark circles and puffiness, ensuring you look healthy and alert. Investing in a tub of Jurlique's Herbal Recovery Signature Eye Cream is investing in nature, so you can believe in its power.
4. Versed Vacation Eyes Brightening Eye Gel
Say goodbye to heavy, goopy eye creams and hello to Versed Vacation Eyes! This lightweight gel is perfect for those who can't stand the feeling of thick or oily cream on their face. It's so lightweight, you'll barely feel it on your skin. In fact, after application, you'll likely forget you used any product at all. At least, you'll forget until you glance into a mirror and see how stunning your eye area looks.
Don't be fooled by Vacation Eyes' weightless formula, this one packs a punch when it comes to delivering results. Vitamin C and ginseng root extract take care of brightening duties, neutralizing discoloration and making your eye area practically sparkle.
At the same time, just like a barista-made latte, the coffee extract in this formula will give your eyes a perky pick-up. Not only will it increase blood flow, bringing oxygen and nutrients to the delicate skin around the eyes, but it will also flush out excess fluid that can gather under the eyes (typically leading to bags or dark circles).
Versed Vacation Eyes is certainly full of goodies, but did you know it's also free of less desirable compounds, like parabens, silicones and sulfates? No wonder it feels so lightweight to apply!
5. Sunday Riley Auto Correct Brightening and Depuffing Eye Contour Cream
Auto Correct is a great name for this fantastic eye cream; it improves your dark rings and puffiness so fast, it's as if you've hit a magic "fix it" button. While the results may seem like sorcery, they're actually thanks to a lot of hard work by the geniuses behind the scenes at Sunday Riley.
So, what makes Auto Correct tick? There's actually no single superstar ingredient here. The formula is instead a harmonious blend of carefully selected and balanced ingredients that work together in perfect synergy. Highlights include caffeine for dark circles, Brazilian ginseng root for puffiness, horse chestnut to smooth crow's feet, watermelon rind for hydration, and lutein for antioxidants and skin-nourishing nutrients.
While we're on this entry, we should mention that Sunday Riley has just received the ultimate stamp of approval by becoming Green Lab Certified. This means that all of their lab practices, production processes and products are not just good for you, but also for mother Earth. So, when you're indulging in their luxurious products, you can also pat yourself on the back for making an eco-friendly and responsible choice.
6. Belif Moisturizing Eye Bomb
Did you know that dryness can be the culprit behind those pesky under-eye shadows? That's right, if your peepers are parched it may be making your dark circles more prominent. Keep your eyes hydrated and you'll be on the way to a brighter, more refreshed look. Your new secret weapon in achieving this? The long-lasting hydration blast of Belif's Moisturizing Eye Bomb!
The key to making this product a marvel of moisturization is its ample use of comfrey leaf. The leaves and roots of this perennial herb contain allantoin, a compound that promotes cell growth and repair. Allantoin will both increase the water content of your cells and create a protective barrier on your skin's surface, locking the moisture in longer.
Belif's Moisturizing Eye Bomb has been clinically tested and shown to provide a whopping 26 hours of thorough moisturization. So grab this super-hydrating wonder-cream and get ready for a smooth and supple complexion that lasts all day long and right through the evening!
7. OleHenriksen Banana Bright Eye Crème
For the last five years, the beauty world has been abuzz with excitement over OleHenriksen's Banana Bright Eye Cream. It's consistently sold like hot cakes, garnered rave reviews, and has been featured in the upper halves of countless "must-have" eye cream listicles. Despite this acclaim, OleHenriksen seems to think there's always room for improvement, so last year they returned to the lab to give their already amazing formula a makeover. While the new version of Banana Bright Eye Cream is still powered by a high content of eye- brightening vitamin C, four enhancements to the formula make it even better than before.
First, the new Banana Bright Eye Cream contains real gold! It's no gimmick; gold particles have been shown to have anti-aging, brightening, and hydrating properties when applied to the skin. Second, the beeswax in the previous formula has now been replaced by antioxidant-rich citrus bioflavonoids.
These plant-based pigments will calm any skin inflammation while providing ample nutrients that are necessary to the ongoing health of your skin. Third, the addition of vegan collagen will boost skin elasticity and firmness. Finally, by popular demand, this product is now fragrance-free, allowing your cologne or perfume to work its magic unperturbed by cosmetic scents.
8. Estée Lauder Advanced Night Repair Eye Supercharged Complex
Have you considered supplementing your daytime eye cream with a specialized nighttime formula? If you haven't, you should know that nighttime is when your skin's rejuvenation and repair process is most active. Boosting this process with a high-quality nighttime eye cream is a savvy strategy for achieving stunning skincare. In terms of dealing with dark circles, the nighttime product we recommend is Estée Lauder's Advanced Night Repair Eye Supercharged Complex.
What makes this product "supercharged?" Only the best next-generation skincare technology! This complex uses patented FR-Defense tech to resist any irritation from pesky environmental factors. We can't tell you exactly how this tech works, but we can tell you that user reviews are packed with accounts of people whose sensitive eyes were finally calmed by this gel cream, allowing them to get a good night's sleep.
The second piece of breakthrough tech used here is Chronolux™ Power Signal technology. This uses a blend of yeast extract, peptide, and other plant-derived ingredients to boost skin's natural repair and youth-generating power. With science on their side, Estée Lauder has delivered one of their best products with this complex. Try it and wake up looking like you've just walked out of the beauty parlor.
9. Charlotte Tilbury Cryo-Recovery Eye Serum
This ultra-cooling eye serum has an appropriately icy theme to its formula. The serum itself is 2% Iceawake™—an extract from glacial soil sourced in Switzerland. Apart from cooling your puffy eyes as if you yourself were standing on top of the snowy Alps, this biotech extract will reduce the appearance of fine lines and wrinkles while giving your eyes a radiant, wide-awake look.
The Cryo-Recovery Eye Serum doesn't just unleash the power of glaciers to perfect your peepers; it also gives your eyes a long cool sip of Swiss ice wine essence. Yes, you read that right! This novel ingredient is made from grapes which have been frozen on the vine. Since wine essence is high in certain sugars that are beneficial to the skin, this little tipple will tighten, lift and firm your eye area, leaving it smooth, youthful, and free of eye bags.
10. La Prairie White Caviar Eye Extraordinaire
Want to indulge in some luxurious pampering while banishing those dark circles? Treat yourself to a bit of decadence and make taking care of yourself an opulent experience. Of course, this eye cream doesn't come cheap; but when it comes to looking after your appearance and feeling confident, it's worth splurging on something that delivers results and makes you feel like royalty.
La Prairie's White Caviar Eye Extraordinaire uses real caviar extract to work its magic. This lavish compound is high in omega-3 fatty acids, vitamins A, D, and E, and antioxidants. It's a potent product that hydrates and firms the skin while boosting collagen production.
When it comes to fixing uneven skin tone and pigmentation, this eye cream takes care of a multitude of issues. It shields the skin from discoloration due to pollution, reduces brown spots that can gather on the cheekbones, and neutralizes those violet and red tints that can appear under the skin's surface.
The package also includes a ceramic pearl facial massager that can be used to apply the thick cream. Initially, we had doubts about the point of this tool, but after using it, we found it to be quite effective at delivering cooling sensory pleasure as you apply the cream to the contours of your eye area.
11. Colorescience Total Eye 3-in-1 Renewal Therapy SPF 35
The sun is a real wild card when it comes to our skin. On one hand, it gives us that golden glow and essential Vitamin D, but on the other hand, too much UV exposure can turn those dark circles under our eyes into real troublemakers. Yes, that's right, excessive UV can actually make dark circles worse!
Aside from increasing pigmentation in the skin, UV exposure can also lead to the breakdown of collagen and elastin. This makes the delicate skin around the eyes appear thinner and more translucent, exposing the blood vessels underneath and contributing to that much maligned raccoon eyes look.
If you suspect that the sun's rays are worsening your dark circles, then perhaps you should try an eye cream that includes sunblock. Our recommendation is Colorescience's Total Eye 3-in-1 Renewal Therapy SPF 35. This nifty and portable stick will both protect your eye area from the sun and also serve as a high quality eye cream.
It excels most in correcting dark circles and reducing puffiness, but will also do some good work smoothing out your fine lines and wrinkles. With clinical trials showing upwards of 90% satisfaction from customers, this product has proven a small hit among those looking to shield themselves from damaging UV rays.
12. Algenist Triple Algae Eye Renewal Balm
This eye cream is based around a power trio of marine-based skincare ingredients, a threesome that's even more mighty than peanut butter, jelly, and sliced bread (and that's saying something). Green, brown, and red algae come together to give your eye area the ultimate pick-me-up. Each type of algae brings its own unique superpower to the mix, working together to revive and rejuvenate those tired eyes.
Green algae, also known as Chlorophyta, is rich in vitamins and amino acids. It'll give your skin a youthful elasticity and boost collagen production. Brown algae, also known as Phaeophyta, is known for its high levels of minerals, particularly iodine and iron. It'll increase your skin's firmness and keep moisture locked in. Red algae, also known as Rhodophyta, is rich in antioxidants and anti-inflammatory compounds. It'll do away with any irritation and redness in no time.
What a dream team, right? These three types of algae have everything covered! If you're not convinced, know that within 10 days of using this product, 100% of participants felt newly moisturized and 93% saw their dark circles disappear, found their skin to be smoother, and agreed that it brightened the appearance of their eye area.
13. Origins GinZing Refreshing Eye Cream to Brighten and Depuff
In case you haven't heard, ginseng is something of a miracle herbal supplement. It boosts your energy, improves brain function, reduces stress and anxiety, enhances the immune system, lowers blood sugar, and can even help out in the bedroom! But what if you're not swallowing it, but rather smoothing it onto your skin? Can it really be just as miraculous? According to Origins, it certainly is, and the results of using their refreshing GinZing Eye Cream seem to back this up.
When applied to the skin, ginseng has natural anti-aging and anti-inflammatory properties. GinZing not only boosts collagen generation, it brightens the complexion by inhibiting the production of melanin. This makes for a nifty one-two punch against dark circles and eye bags, knocking them into history and leaving you looking bright and refreshed.
But that's not all. Origins has recently upgraded their formula by adding extra vitamin C and vitamin B3. What does this mean in terms of your skin? An additional burst of antioxidants, improvement of elasticity, and a reduction of uneven skin tone. While Origins' original formulation would still have made it onto this list of the best eye creams for dark circles in 2023, this revised version is even better than what came before.
14. Biossance Squalane + Marine Algae Eye Cream
Biossance are true believers in the power of squalane, putting it in every single skincare product they make. After you've tried this eye cream, we're betting you'll be a true believer too.
Squalane was created by the brilliant minds at Biossance to provide an alternative to squalene, an oil that is taken from the livers of sharks. But, don't worry, there is no cruel hunting necessary for Biossance's version of this powerful emollient, as it is instead derived from sugar cane.
Absorbing almost instantly into the skin, studies show that squalane penetrates 20 times deeper than other moisturizing oils, delivering other active ingredients at a similarly deep level as it does so. This means that not only will your skin be as thoroughly moisturized as possible, but the potent marine algae extract included in this formula will be even more effective at improving skin elasticity and brightening skin tone.
15. Augustinus Bader The Eye Cream
In 2008, Professor Augustinus Bader had a "Eureka!" moment when he discovered a revolutionary gel that can heal even the most severe skin traumas without the need for skin grafts or surgery. This groundbreaking technology inspired him to launch the Augustinus Bader skincare line. Considering this, it's no surprise that his line of products is so celebrated for its ability to revive skin in the direst of straits.
If you believe the skin around your eye area may be beyond repair, or if your eye circles are so dark that they look like a permanent marker smudge, then you owe it to yourself to try The Eye Cream from Augustinus Bader. This miraculous formula utilizes Professor Bader's TFC8®, or Trigger Factor Complex. Since this is an exclusive patented technology, we're unable to tell you which 40+ ingredients comprise this complex, but we can tell you what they do to spruce up your weary eyes.
TFC8® forms a targeted delivery system to transport essential nutrients and potent natural ingredients to the skin's surface, fostering an optimal environment for cellular regeneration and rejuvenation. In plain English, this means that The Eye Cream can work wonders in reducing redness, fine lines, wrinkles, dark circles, hyperpigmentation, stretch marks, cellulite, and damage caused by external stressors.
While the price tag of this product may understandably make some people hesitate, just remember, your eyes are the windows to your soul and deserve to be treated with an ample dose of science-backed TLC.
16. Kiehl's Powerful-Strength Line-Reducing and Dark Circle-Diminishing Vitamin C Eye Serum
With over 150 years of experience under their belt, Kiehl's is a brand you can always trust to deliver a high-octane product. In this case, when you press down on the pump bottle, you'll be unleashing a triple shot of pure vitamin C, tri-peptide and fragmented hyaluronic acid.
The pure vitamin C makes up a whopping 10% of this formula, allowing you to get the maximum benefit from the antioxidant's collagen-boosting and brightening effects. These impacts are backed up by the tri-peptide; by providing the essential building blocks of proteins, tri-peptide keeps your skin healthy, strong and resilient. Not only that, but it also helps to promote deep healing from any damage or imperfections, leaving you with a truly unblemished and youthful appearance.
Finally, fragmented hyaluronic acid is a type of hyaluronic acid that has been broken down into smaller molecules. This miniaturization of these acid particles allows them to penetrate more deeply into the skin for thorough hydration and plumping effects.
All in all, despite having a product name that's a bit of a mouthful, the Powerful-Strength Line-Reducing and Dark Circle-Diminishing Vitamin C Eye Serum delivers on its promises, making it a worthy addition to this list of the best eye creams for dark circles in 2023.