The Best Eye Creams for Bags and Puffiness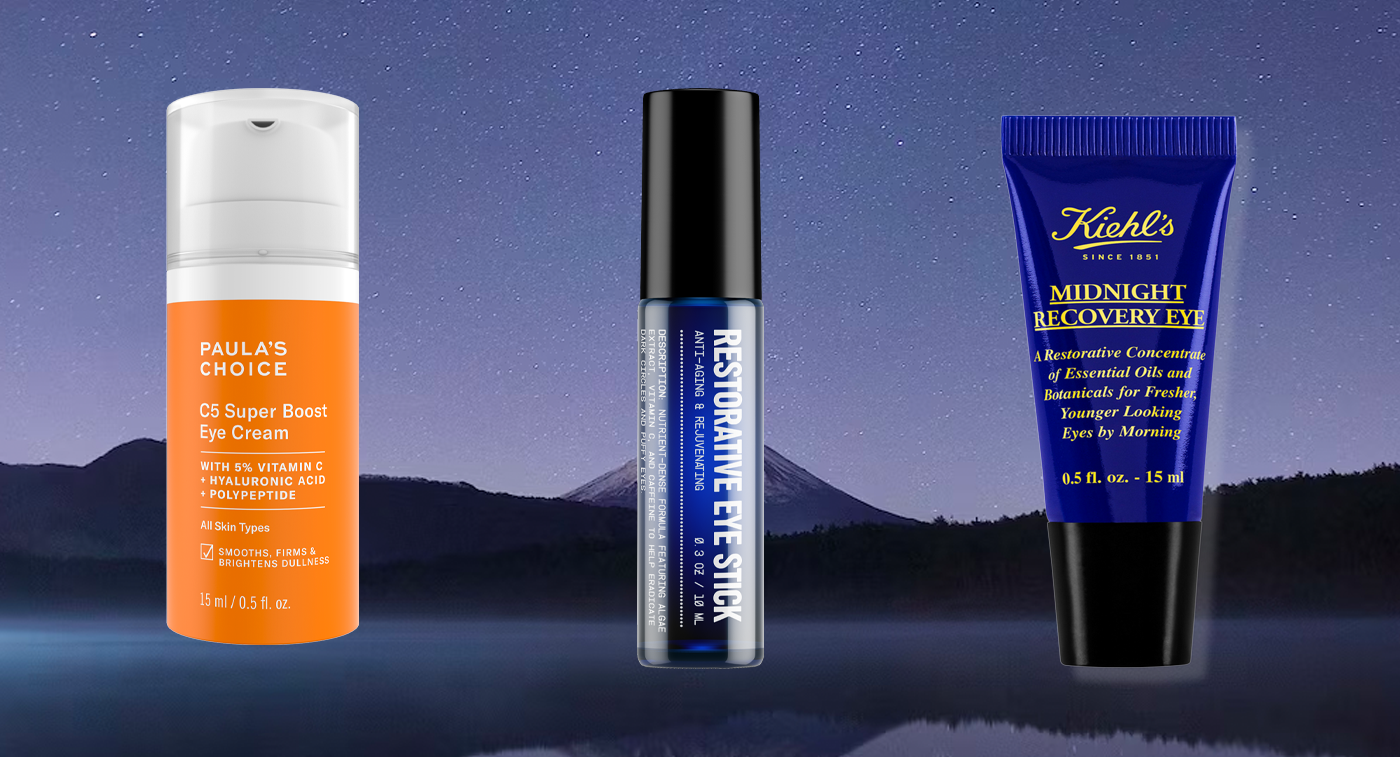 Waking up with bags under our eyes is simply part of a normal morning routine for many of us. We splash cold water on them, slather our faces in moisturizers and facial creams, inhale a vat of hot coffee — but when we look in the mirror, the dark rings haven't budged. Sometimes eight hours of sleep just isn't enough to beat eye bags and puffiness. Genetics, diet and allergies can all contribute to shadowed and swollen eyes, often causing fluid retention to exacerbate the appearance of the natural fat pads that sit beneath the eye socket. You'll likely notice the puffiness disappears throughout the day, but what if you want to deal with tired eyes before stepping out the door?
If this is the case, you'll find that eye creams are a lifesaver. Formulated specifically for the sensitive under-eye area, these products intensely nourish the skin of the fat pad, reduce fluid retention and address puffiness. Of course, there are plenty of products with impossible claims and marketing techniques, but knowing which basic ingredients you should look out for will make all the difference.
Caffeine-based products wake up the skin by tightening blood vessels, reducing puffy eyes. Moisturizing agents work by smoothing out under-eye skin and boosting hydration for a plump, refreshed appearance. Meanwhile, retinols battle fine lines and wrinkles, improving collagen turnover for youthful, strong skin. The de-puffing effects of these key ingredients are all you need for bright under-eyes. Luckily, we've made the search easy for you with this curated collection of our favorite eye creams.
Browse our list of the best eye creams for bags and puffiness to discover a new morning routine staple for yourself. You'll wake up looking like you've just had the best sleep of your life.
Say goodbye to puffy eyes with the highly coveted Eye Stick by Blu Atlas. This fantastic beauty brand tops our list of the best eye creams for bags and puffiness — and it's not hard to see why. Packed with nutrient-rich ingredients such as rose flower water, algae extract, vitamin C and caffeine, the Eye Stick helps resolve even the most stubborn dark circles and swollen eyes. Rose water is renowned for its natural healing potential, working with the detoxifying vitamin C to reduce inflammation and puffiness in the skin.
Caffeine brightens the under-eye for an immediately refreshed appearance. Quickly increasing in popularity in the skincare world, algae extract offers extraordinary hydration for soft, supple skin, while also being rich in toxin-fighting antioxidants. The Eye Stick's roller ball applicator makes using the product super simple — just gently roll in circular motions across the under-eye, and you're done! We love pairing it with Blu Atlas' facial moisturizer for even more radiant skin.
2. Paula's Choice C5 Super Boost Eye Cream
Paula's Choice has stolen our hearts with their C5 Super Boost Eye Cream. This Australian skincare brand has delivered one of the best brightening eye creams on the market, using vitamin C concentrate to target dull, discolored under-eyes.
Vitamin C is also an impressive antioxidant with the capacity to fight off free-radicals, which cause damage to your vulnerable skin cells. Infusions of peptides and hyaluronic acid work to improve under-eye firmness for a smooth and hydrated appearance, while zerumbone, a concentrated ginger extract, reduces dark circles. In an independent consumer study, 94% of users noticed rapid moisturization of the skin, with an impressive 88% reporting smoother under-eyes and 83% reporting visible firming action after 28 days of use. The multi-level repair of C5 Super Boost Eye Cream means it can be your one-stop shop for younger-looking eyes.
3. Kiehl's Midnight Recovery Eye Cream
Kiehl's has been changing the skincare game since 1851. They've packed their years of experience into this life-changing Midnight Recovery Eye Cream, a replenishing eye cream designed for night-time use. Using butcher's broom extract to tackle under-eye puffiness, lavender essential oil to soothe and calm the skin, and evening primrose oil for improved skin elasticity, you'll notice fresher and firmer under-eyes by the morning.
The restorative action of the Midnight Recovery Cream actively aids the skin's recovery from daily aggressors, such as UV rays, debris, wind and extreme temperatures. Despite being a creamy product, we found Kiehl's formula to be super lightweight. This means it doesn't clog pores or leave your skin with a tacky, weighed-down feeling in the morning. The luxuriously relaxing lavender scent supports a restful sleep for naturally replenished under-eyes.
4. The Inkey List Caffeine Eye Cream
We couldn't imagine this list without The Inkey List's Caffeine Eye Cream. Harnessing the detoxifying and brightening powers of caffeine, this product instantly de-puffs the under-eye area and helps reduce fine lines, wrinkles and dark circles. As we've mentioned, one of the major causes of swollen under-eyes is water retention. Caffeine behaves as a diuretic to prevent fluid accumulation, resulting in firmer, flatter skin as you sleep. The Caffeine Eye Cream is also infused with the infamous Matrixyl 3000 peptide to enhance collagen production and albizia julibrissin bark extract to fight signs of tiredness. Although you can use it morning and night, the Inkey List recommends applying the caffeine eye cream before your moisturizer due to its light density.
5. La Mer The Eye Concentrate
If you looked up the definition of "luxury skincare" in the dictionary, La Mer would certainly appear there. This world-renowned skincare brand offers deluxe ingredients with incredible results. Its key ingredients include La Mer's Miracle Broth, concentrated with anti-aging properties for a total skin overhaul, their Clarity Ferment, and a lime tree concentrate for brighter, healthier skin.
This multi-action formula truly resolves every under-eye issue. Dark circles? Vanished. Lines and wrinkles? Smoothed out. Dry, irritated skin? 100% soothed. La Mer promises radiant, younger-looking under-eyes in only 21 days. The applicator is silver-tipped, so it cools the skin while stimulating the microcirculation for greater blood flow to the area. If you couldn't tell, we adore The Eye Concentrate. In our view, there's no better product to splurge on.
6. The Ordinary Caffeine 5% + ECFC Eye Serum
Do your eyes constantly look tired, no matter how much sleep you get? The Caffeine 5% + ECFC Eye Serum is the right product for you. The Ordinary has taken the skincare world by storm in recent years with their simplified, science-based formulas that deliver the most incredible skin of your life. Their eye serum plumps up the eye contour while reducing puffiness through a high concentration of caffeine and highly-purified epigallocatechin gallatyl glucoside.
our under-eye will appear lighter, with a significant improvement in the youthfulness of your skin. To use, pat a small amount onto the under-eye area in both the morning and evening. Make sure you apply moisturizer after the Caffeine 5% + ECFC eye serum to seal in the product.
7. Estee Lauder Advanced Night Repair Eye Supercharged Complex
Looking bright-eyed in the morning starts with your night-time routine. For those struggling with stubborn shadows beneath the eyes, Estee Lauder's ANR Eye Supercharged Complex promises improved dark circles and fine lines in just two weeks. The double-action formula simultaneously defends against free radical damage, which can lead to premature aging, and hydrates the skin for a more plump, moisturized look.
The secret behind this next-generation technology includes vitamin E, a powerful antioxidant, and hyaluronic acid, which deeply nourishes the skin for inner radiance. The gel-creme texture has become one of our favorites, gliding smoothly onto the skin for a lightweight, invisible feel. The ANR Eye Supercharged Complex is ideal for all skin types, and is free of parabens, sulfates, alcohols and common irritants. What are you waiting for? Start tonight!
8. La Roche-Posay Redermic Retinol Eye Cream
No one knows skin care quite like La Roche-Posay. This Redermic Retinol Eye Cream is their secret to anti-aging, working to vanish all fine lines, wrinkles and dark circles. The key ingredient is pure retinol, which promotes skin cell turnover for fresher, younger looking skin. A complex blend of caffeine, glycerine and dimethicone supplements the clock-reversing effects of retinol, using their detoxifying and hydrating properties to resolve dry, irritated under-eyes.
La Roche-Posay recommends applying their eye cream in the evening using gentle, massaging motions. Keep in mind that regular retinol application requires the use of SPF protection throughout the day. Get your hands on the Redermic Retinol Eye Cream for an unbeatable lifting effect.
9. Mario Badescu Caffeine Eye Cream
If you know anything about skincare, it's highly likely you already own a Mario Badescu product. This reliable skincare brand now has another item to add to your collection: their Caffeine Eye Cream. Infused with high-quality caffeine for a brighter, firmer eye area, this eye cream will dissolve any puffiness and minimize under-eye bags. The super-absorbent formula aids in a non-sticky feel after applying, leaving your skin as the perfect base to apply other skincare products or makeup.
Other star ingredients include sodium hyaluronate and jojoba esters for moisturization, and squalane for replenishment. If you haven't done so already, it's time to put your faith into Mario Badescu!
10. Dr. Andrew Weil For Origins Mega Mushroom Relief & Resilience Soothing Gel Eye Cream
The Mega Mushroom Relief & Resilience Soothing Gel Eye Cream is one of the best eye creams for bags and puffiness. It's a big claim but, we mean what we say. With a non-greasy, cooling formula, we recommend this product for severely puffy, fatigued under-eyes.
Dr. Andrew Weil has collaborated with Origins for an organic-based skincare product with the same efficacy as those with standard chemical ingredients. Reishi mushroom works by boosting the skin's resilience, improving the bounce and firmness of the under-eye. Holy basil and lady's thistle complex soothes the skin to diminish redness and irritation, while vitamin E brings detoxifying effects to protect the skin against free radical damage. Sagging, sad under-eyes will be a thing of the past with this fantastic product.
11. Dermalogica Awaken Peptide Depuffing Eye Gel
Dermalogica continues to impress with their impressive range of products. Their Awaken Peptide Depuffing Eye Gel is no exception. With a firming and hydrating gel formula, this caffeine-based product battles the appearance of fine lines, puffiness and texture.
An active blend of tertrapetides, rosemary leaf extract, succinic acid and voandzeia subterranea seed extract blends into the skin for deep nourishment. Dermalogica has created a product so effective, you'll notice huge improvements after only ten minutes of use! If you've ever been skeptical of the effectiveness of eye creams, give Dermalogica's Awaken Peptide Depuffing Eye Gel a try. Your skin will look more luminous than it ever has before.
12. Ren Brightening Dark Circle Eye Cream
Dark under-eyes don't have to last a lifetime with Ren's Brightening Dark Circle Eye Cream. With proven results after just 7 days, this powerful eye cream is designed to neutralize dark circles and de-puff the eye area for plumper, smoother and brighter looking skin. Throughout the day, we encounter harmful free radicals which trigger damaging cellular processes, leading to dull, lifeless skin, and premature aging.
This Brightening Dark Circle Cream promotes healthy under-eyes by infusing the skin with antioxidant-rich elderberry flower extract and moisture-rich glycogen. Transforming your eyes is easy with Ren — simply pat a small amount over the under-eye, eyelid and brow bone and watch the magic happen.
13. Drunk Elephant C-Tango Multivitamin Eye Cream
There's something about Drunk Elephant that we just can't get enough of. Their C-Tango Multivitamin Eye Cream is the perfect companion for your morning and night-time skincare routine, formulated with a creative blend of antioxidants, ceramides and plant oils to refresh and restore the skin's natural radiance. The powerful 5C Vitamin Complex is a unique complex of vitamin C and absorbs into the skin to defend against harmful skin aggressors, such as UV rays and free radicals.
The 8-peptide blend rebuilds the skin from within, diminishing fine lines and wrinkles, while superoxide dismutase and hesperidin methyl chalcone supports younger, fresher looking skin. One of our favorite ingredients in the line-up is ubiquinone, which studies have shown to be effective in smoothing out the signs of aging.
14. It Cosmetics Bye Bye Under Eye Eye Cream
Unlock the best skin of your life with It Cosmetics' Bye Bye Under Eye Eye Cream. This highly-rated product has a cult following of devoted skincare junkies — and we count ourselves among them. The refreshing formula does wonders for the under-eye, rapidly and reliably minimizing the appearance of dark circles and improving skin firmness.
Formulated with caffeine, hyaluronic acid, niacinamide and ceramides — all of our favorites — the Bye Bye Under Eye Cream restores the skin's barrier to improve the natural strength and elasticity of the skin. Antioxidant-rich ginseng extract absorbs toxins, protecting the fragile under-eye from further damage. The name says it all — say bye bye to your tired under eyes!
15. La Prairie Skin Caviar Luxe Eye Cream
There was no way we'd exclude La Prairie from our list of the best eye creams for bags and puffiness. Their Skin Caviar Luxe Eye Cream is the ultimate de-puffing product for tired, swollen under-eyes. Using revolutionary science, La Prairie's formulation is infused with natural caviar extract and caviar mimetics. You heard that right, caviar! Caviar provides unmatched lifting and firming, tightening the under-eye to diminish any signs of irritation.
This creamy formula is incredibly comfortable on the skin. La Prairie really has skin care down to a fine art, applying the Skin Caviar Luxe Eye Cream with the accompanying silver spatula is the perfect sensory experience. Its price reflects how phenomenal this product is, and surely a little indulgence never hurts!
16. Murad Renewing Eye Cream
Murad's Renewing Eye Cream is unparalleled when it comes to revitalizing your under-eyes. Designed to improve the elasticity of your skin, this ultra-nourishing eye cream battles signs of aging from sagging to dullness. A combination of advanced peptides and retinol improve the appearance of fine lines and wrinkles, leaving you with uplifted, rejuvenated skin.
Mango butter reinforces the skin's internal structure for enhanced bounce and suppleness, while Murad's eye brightening complex de-puffs and smooths the complexion. We recommend using this purely in the evening — once a day is enough to see amazing results.
17. Clinique All About Eyes Rich Cream
Clinique's All About Eyes Rich Cream sets the bar seriously high. This moisture-rich eye cream works in two ways. Firstly it instantly smooths out under-eye circles and alleviates dark shadows, and secondly it kick-starts the skin's natural anti-aging mechanisms. This means the skin is immediately revitalized, and is strengthened over time.
The skin's moisture barrier is reinforced for stronger, healthier skin that bounces back, preventing damage from external aggressors or the free radicals you encounter in your day to day life. A little goes a long way; just one swipe will lead to a visible transformation. We love the way it soaks into the skin, and found it to be the perfect smoothing primer base for concealer and other base makeup products.
18. Peter Thomas Roth Peptide 21 Wrinkle Resist Eye Cream
Turn back the clock with Peter Thomas Roth's eye cream. Full of an impressive 21 peptides and neuropeptides, along with 2 gamma proteins and their trademark brightening complexes, the Peptide 21 Wrinkle Resist Eye Cream is the definition of the perfect anti-aging eye cream. Crows' feet are tightened, fine lines are smoothed and deep under-eye wrinkles are filled with this cutting-edge formula.
Gone are signs of fatigued skin and discoloration, instead you'll notice radiant, luscious skin with an even texture. The Peptide 21 Wrinkle Resist Eye Cream can be applied twice a day, making it the ideal addition for your current skin care routine. Take our word for it, this gem of a cream will help reveal your younger self.
19. Dior Capture Youth Age-Delay Advanced Eye Treatment
Start smiling at your morning reflection with the Capture Youth Age-Delay Advanced Eye Treatment. Dior — one of our tried and true luxury brands — has formulated a time-freezing product for worn, tired under-eyes. If you've struggled with a flared skin barrier in the past, Dior has you covered. It boasts results comparable to retinol, but uses ingredients of natural origin.
This means there's less of a risk of irritation and incompatibility with the product, making it the perfect under-eye boost for sensitive skin. When using every day, massage a pump of the Youth Age-Delay Advanced Eye Treatment into the eye contour with a soft, gentle touch. You can even use it as an effective eye mask when your eyes are especially tired! Just apply a thicker layer onto the eye contour and leave to soak in. We recommend doing this at night so you can wake to younger, smoother skin in the morning.
20. Biossance Squalane + Peptide Eye Gel
It's time to immerse yourself in comfort. The Squalene + Peptide Eye Gel is a weightless, supremely hydrating eye cream formulated by Biossance to target the signs of puffiness and dark circles. Niacinamide reduces shadowed eye contours and improves hydration retention within the skin for smoothness, while squalene, derived from sugarcane, provides lightweight moisture and aids other active ingredients to penetrate deep within the skin.
One of the more unique ingredients, swiss apple stem cell extract, is a plant-derived technology used to refresh the skin of any fine lines and wrinkles. Biossance recommends using the Squalane + Peptide Eye Gel sparingly both in the morning and at night, making sure to layer it beneath other serums. It promises well-rested eyes with just a single drop, even a good night's sleep can't beat it.
21. Ole Henriksen Banana Bright Eye Creme
Ole Henriksen's Banana Bright Eye Creme belongs in your skincare routine. This bestselling eye cream uses vitamin C to brighten up the under-eye for a refreshed, awakened appearance. It contains real gold — yes, real gold — which works alongside vitamin C to enhance moisturization and smoothness of the skin. With citrus bioflavonoids, orange extract and vegan collagen, the skin is conditioned and detoxified for a bright and healed appearance.
The inclusion of light-reflecting mineral pigments is absolutely genius, creating a universally-flattering glow beneath the eyes. The formula is also crease proof, meaning your concealer will stay soft and blended throughout the day. We're just as impressed as you are.
22. CeraVe's Eye Repair Cream
CeraVe is a brand jam-packed with all the goodness of luxury skincare, but at a fraction of the cost. Their Eye Repair Cream uses ceramides, hyaluronic acid and niacinamide to help regulate the skin's protective barrier and seal in hydration. The results? Bright, nourished, smooth skin with no puffiness or dark contours.
Plus, specially designed MVE technology promotes the continuous release of moisturizing agents throughout the day, meaning the product passively hydrates your skin without you needing to do anything. The non-greasy, fast-absorbing formula is one of the best eye creams for bags and puffiness, and is recommended by ophthalmologists for all signs of skin fatigue. Get on board with CeraVe. Your skin will thank you for it!
Frequently asked questions
When should I use eye cream?
Eye cream can be used both morning and night, although the frequency of your usage will depend on your personal tolerance to the product. You can even alternate your products for optimal results. If you notice puffy, dull eyes in the morning, a vitamin C or caffeine formula would be beneficial; if you notice creasing and dark under-eyes at night, you should reach for a more moisturizing product.
Keep in mind the importance of layering. When it comes to skin care, thinner products should be applied before those with thicker consistency. You should apply any serum-based, lightweight eye creams before moisturizer, while heavy and creamy eye creams should come after moisturizer. Correct layering aids the product's absorption into the skin, improving the effectiveness.
Should I use eye cream if I have sensitive skin?
The skin of the under-eye is incredibly fragile. This is why dermatologists promote tender treatment of this area, using gentle formulas and a soft, sweeping touch. If you have particularly sensitive skin, you may find yourself reacting to more skincare products than the average person, and eye creams are no exception to this rule. However, this doesn't mean you should avoid them.
Using a high-quality formula will reduce the risk of irritation. Choose a sensitive skin friendly option, containing organic products without fragrances. Make sure to apply the product to the under-eye without directly touching the actual eye itself. If you're still finding your skin reacts to even the most gentle of eye creams, you may want to decrease your usage frequency to only a few days a week. Ultimately, you should use whatever products are good for your skin.
Can I use retinol products every day?
Retinol has a reputation for being harsh on the skin. It's true that the skin requires an "adjustment" period when beginning a retinol journey. You should start off slow, applying only once a day a few times a week, before increasing your frequency. It's unlikely you'll need to apply retinol every day to see results.
If your skin has adjusted, however, feel free to use it daily. Keep an eye out for any redness, inflammation or skin that's painful to the touch, as this indicates a damaged skin barrier due to retinol overuse. You should also note that some ingredients cannot be applied at the same time as retinol. Exfoliating AHA/BHA acids, for example, will dry out the skin, increasing the chance of retinol irritation. As long as you are aware of the do's and don'ts of retinol, you can absolutely use it as you wish!