The Best Anti-Aging Eye Creams For 50s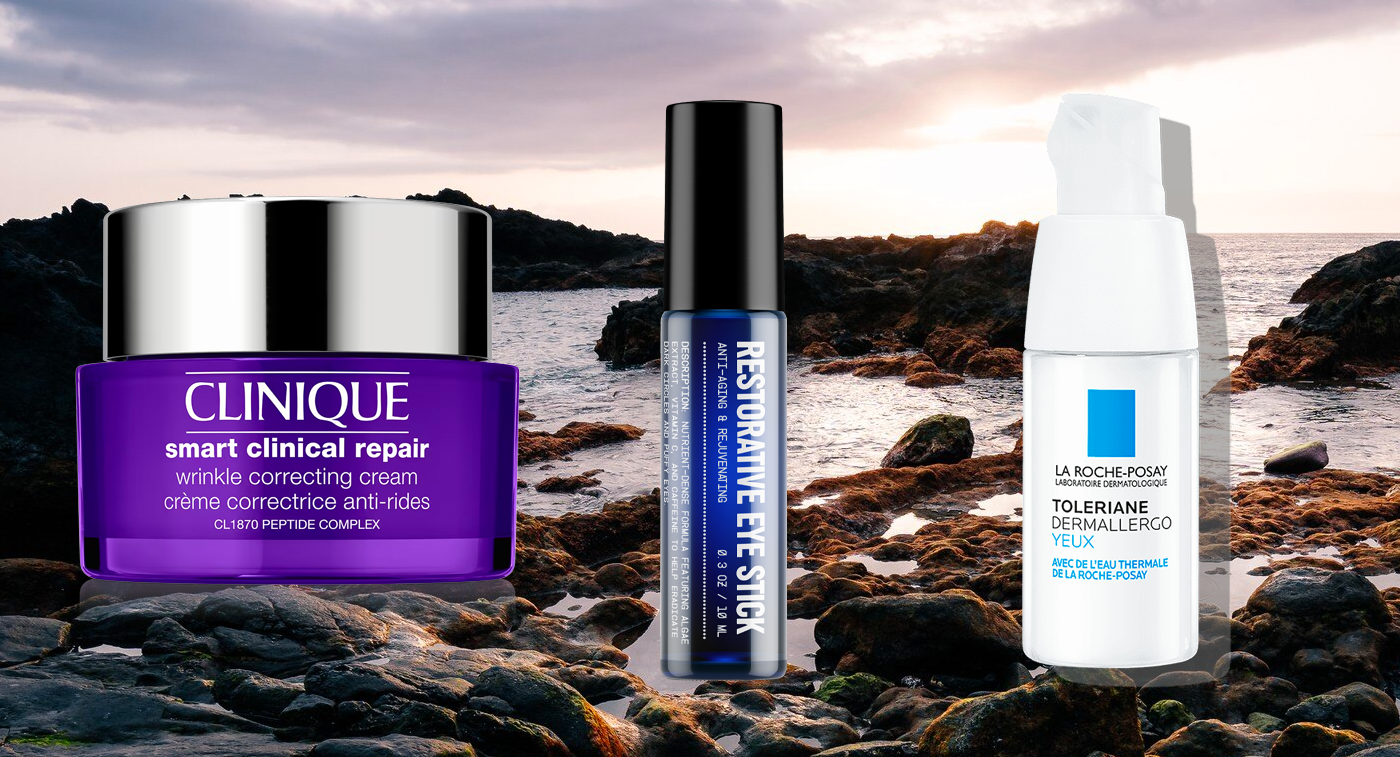 Eye cream should be a part of your everyday skincare regime as it is extremely important to protect this delicate skin. Often, wrinkles first appear under the eyes, so if you are hoping to remain youthful, you should be using the best eye cream possible. Most eye creams are very versatile and can be applied before adding makeup to ensure that the makeup does not infiltrate and damage the skin. Additionally, most eye creams can be applied at night, so that the vitamins and minerals have time to penetrate and hydrate the skin area.
If you still find that your skin is looking dull and feeling dehydrated, an eye mask is a great option to give your skin an added boost of hydration.
How to apply eye cream
For best results, start by applying a gentle cleanser to your whole face, to remove dirt and impurities while also unblocking pores. The next step is to apply a toner to your skin, this will seal off your pores and tighten your skin to ensure that dirt can not easily penetrate your skin.
This next step is optional: you may choose to apply a serum or an oil to your skin. These act to hydrate and brighten the appearance of your face. Finally, the eye cream is applied. Dab a small amount under the eye and rub in gently, ensuring that the product is fully set into the skin before using a normal moisturizer on your entire face.
By repeating these steps, morning and night, your skin will not only thank you but will also look and feel younger.
Here are the best anti-aging eye creams for your 50s.
Blu Atlas has everything that we are looking for when investing in a good quality eye cream, so it's no wonder that they come out on number one. Algae extract, Vitamin C, and caffeine are all included in this nutrient-rich composition to help reduce dark circles and puffy eyes. Apply by gently circling the afflicted regions with the roller ball as you apply. For maximum results, use it every day. The ingredients in this eye stick have been hand picked with 96% being from nature including plants, fruits, and minerals.
2. Clinique Smart Clinical Repair Wrinkle Correcting Eye Cream
With the stylish and bold purple tub, clinique's smart clinical repair eye cream is an amazing product. The fragile skin around the eyes is vulnerable to damage. This anti-wrinkle eye lotion is designed to strengthen this skin, making it more durable, noticeably softer, and firmer. It enhances the skin's natural collagen, supports skin's natural structure, and fortifies skin's moisture barrier, all of which help to visibly reduce lines and wrinkles. Additionally, it provides calming moisture that is immediate and lengthy. Simply rub into skin, to assist in effectively moisturizing the eye area.
3. La Roche Posay Toleriane Dermallergo Eye Cream for Sensitive Skin
Does your skin get irritated easily and you struggle to find a product that reduces redness and itchiness? Well, we have discovered that La Roche Posay's eye cream is a great option for sensitive skin. This product is an everyday hydrating eye cream with prebiotic Sphingobioma, their newest discovery that supports the skin microbiome, for delicate skin or irritated eye lines.
When used in conjunction with La Roche-Posay Thermal Spring Water, a naturally calming and antioxidant, Neurosensine and Niacinamide in eye cream act as calming ingredients that relaxes your complexion. This product is suitable for the contours of hypersensitive and allergic eyes. It nourishes the skin that surrounds the eyes with 48 hours of moisture and helps the body's natural protective barrier.
4. Estee Lauder Advanced Night Repair Eye Supercharged Gel-Creme
Estee Lauder is a well-known brand for all skin care products, and this eye cream is a bestseller. It boosts your eyes to give a gentler, more relaxed appearance while brightening the undereye region. The lines appear thinner as hyaluronic acid plumps and hydrates. This eye cream minimizes the appearance of dark circles, eye wrinkles, and early signs of eye aging.
It is designed and tested for sensitivity in the eye area. The eye cream has been tested and approved by dermatologists and ophthalmologists. Plus, the packaging is recyclable as it is made of paperboard.
5. RoC Retinol Correxion Line Smoothing Eye Cream
If you want results quickly, RoC is one of the best. Within four weeks, you will notice that your skin is more radiant and calm, and by 12 weeks, you will see that wrinkles have improved by 50%. With this effective lotion, it will address the three primary eye concerns; puffiness, dark circles, and wrinkles. This eye treatment, which is scientifically shown to significantly revitalize the sensitive skin around the eyes, is made with stabilized retinol. RoC has made this formula non-greasy and it is hypoallergenic.
6. Shiseido Wrinkle Smoothing Eye Cream
Shiseido's wrinkle smoothing eye cream is a great choice. The most recent developments in Japanese technology that target six different forms of eye region wrinkles, including crow's feet, lid creases, puffiness, and stress wrinkles between the brows. Maximum hydration is guaranteed, and Squalane and KOMBU-Bounce Complex guard against further harm. Skin is left with 48-hour hydration that is sleek and beautiful.
7. Drunk Elephant C-Tango Multivitamin Eye Cream
Drunk Elephant's eye cream has one of the best scents for eye cream and it is extremely versatile. A creamy and nourishing eye cream with five different types of Vitamin C, eight peptides, and cucumber extract for firmer, more resilient-looking skin around the eyes.
Strong antioxidants, regenerating ceramides and plant oils, and calming active ingredients dance in C-Tango to revive skin and bring back its radiance. It's strong enough to eliminate even the most obstinate symptoms of damage while being delicate enough for use in the morning and evening.
8. Lancome Advanced Genifique Eye Cream
Lancome is one of our favorite brands and this eye cream is sensational. Advanced Génifique Eye Cream contains the microbial expertise of Lancôme Génifique. The product from Lancôme contains millions of probiotic and prebiotic components, which supply vital nutrients for the skin surrounding the eyes.
Advanced Génifique Eye Cream gives noticeable effects for bolder, more youthful eyes while thoroughly hydrating all day. The skin is immediately infused with a special mix of prebiotic and probiotic fractions thanks to the velvety gel-cream consistency.
9. Colorescience Total Eye Firm & Repair Cream
Designed to visibly improve wrinkles, this eye cream is an excellent choice for anyone in their 50s. Clinical research demonstrates that Total Eye Firm & Repair Cream targets telltale aging symptoms for eyes that appear refreshed and young. A richly balmy solution with potent humectants replenishes internal hydration while delivering hydration to the skin to enhance the condition of the skin barrier.
Collagen and elastin are supported for improved tightness and elasticity by a soothing combination of botanical ingredients, cutting-edge antioxidants, and peptides. Caffeine's stimulatory effects aid in decreasing swelling for an invigorated complexion. Skin appears moisturized, brighter, and tighter as a consequence.
10. L'Oreal Paris Age Perfect Cell Renewal Anti-Aging Eye Cream Treatment
L'oreal Paris is a reliable and versatile brand that always creates incredible products, and this one is no different. Dark circles, bags, puffiness, wrinkles, and crepey lids are just a few of the five indicators of aging that Age Perfect Cell Renewal Eye Cream tackles in one application.
It helps replenish the skin's antioxidant reserves and speed up its naturally occurring renewal process because it contains a proprietary antioxidant and vitamin E. L'oreal Paris's formula is non-greasy and provides intense hydration, great for anyone wanting a little bit of extra care.
11. Dr. Brandt Capsule Eye Cream
Dr Brandt's eye cream has been made and tested by dermatologists. This treatment minimizes the impression of puffiness, hydrates the eye area, and diminishes the sight of wrinkles and fine lines.
What's great about his eye cream is that it can be applied morning and night for optimal effect. Most users have noticed a difference in the feel and appearance of their under eyes within two weeks, so this is definitely an eye cream that we can get behind.
12. Elemis London Peptide4 Eye Recovery Cream
Elemis eye cream comes in a stylish bottle with a purple gradient, which makes it the perfect bottle to put on display. It is a moisturizing eye lotion that tackles the look of puffy eyes, deep wrinkles, and hyperpigmentation around weary and strained eyes.
This skin-synchronizing eye treatment, which contains Peptide4, hydrates and protects with an oil to show glowing, stronger eyes.
14. Neutrogena Rapid Wrinkle Repair Retinol Eye Cream
Neutrogena is a global brand that is well-known for being reliable and high quality. We love this product as it is easily available and works wonders on aged skin. With the help of this concentrated retinol eye treatment, the wrinkled area around the eyes can be rejuvenated.
This eye cream, which is formulated with retinol and hyaluronic acid, addresses the appearance of dark circles and illuminates and helps balance skin tone while reducing the appearance of crow's feet and fine wrinkles. Additionally, hyaluronic acid offers hydrating plumpness to help nourish and refresh the appearance of skin.
15. LilyAna Naturals Eye Cream
This is easily one of the best-looking eye creams that we have come across, with the feminine flowers contrasted with the retro-style writing. Made with a special floral blend that reduces puffiness, lightens dark circles, and smoothes out imperfections while also intensely moisturizing and hydrating your eyes. The ingredients are 95.7% naturally derived, and there are no harsh chemicals. This product is ideal if you have sensitive skin.
16. Vichy Laboratories Liftactiv Eyes
Suitable for all skin types, this is a great all-around eye cream. This product can even be used on your eyelid. It's that good. Formulated with caffeine, rhamnose, and 15 mineral-rich Vichy volcanic water was verified by dermatologists and ophthalmologists. For usage on the delicate eye area, including the eyelid, anti-aging eye care was created.
Formulated with caffeine, rhamnose, and 15 mineral-rich Vichy volcanic water, it was verified by dermatologists and ophthalmologists. Minimizes the appearance of wrinkles and crow's feet, reduces dark circles and diminishes under-eye bags. The eye contour area is instantly absorbed by the thick, creamy texture, which is neither oily nor unpleasant and it gives skin a softer, hydrated, and brighter sensation after use.
17. CeraVe Eye Repair Cream
CeraVe is one of the best eye cream brands as it offers versatility and quality. Ophthalmologist-tested CeraVe Eye Repair Cream is a non-oily, quick-absorbing, fragrance-free formula that helps to lessen the appearance of dark bags and heaviness around the eyes. Hyaluronic acid, niacinamide, three important ceramides, and a marine and botanical combination are included in the composition to help lighten the whole eye area. Additionally, MVE technology continuously disperses hydrating components for 24-hour refreshment.
18. The Body Shop Vitamin E Eye Cream
Organic and environmentally friendly, there's a lot to love about this Body Shop eye cream. Supporting you in achieving the ideal set of bright eyes with a rich, velvety texture enhanced with Vitamin E and hyaluronic acid. This renowned solution makes the skin around your eyes feel softer and healthier, and it also helps to hide wrinkles. For tired eyes, it's like a fantasy of rejuvenation.
19. No7 Beauty Protect & Perfect Intense Advanced Eye Cream
Formulated with ginseng extract, Shea Butter and hyaluronic acid, No 7 Beauty has created an eye cream that gives stunning results. Protect & Perfect Intense Advanced Eye Cream, which targets the appearance of fine lines and wrinkles around the eyes, is made with potent, powerful ingredients that also reduce the appearance of dark circles and puffy eyes for skin that is noticeably softer and youthful.
20. Essano Collagen Boost Eye Crème
Essano's Collagen Boost Eye Crème smells like heaven. Made with Eye'Fective and Rosehip Oil, which together soften fine wrinkles, elevate eyelids, and lighten eye bags. Additionally, this eye cream contains collagen, which is proven to improve skin, hair, and nails. This eye cream is a great option for those looking for a little boost.
21. Liz Earle Superskin Eye Cream
With a deep emerald green tub and a subtle light green cream, there's a lot that we love about Liz Earle's product. Superskin Eye Cream is infused with plant extracts carefully chosen for their effectiveness, including strengthening paracress flower extract, antioxidant pomegranate fruit, green tea to illuminate, and alfalfa to reduce under-eye redness and swelling. It has a sleek creamy consistency that absorbs quickly to rapidly moisturize. To give specialized treatment for the sensitive eye area, it also contains a trademark trinity of nutritious plant oils: cranberry, rosehip, and British borage seed.
22. Derma-E Advanced Peptides & Flora-Collagen Eye Cream
If you're after an easy to use eye cream, this one always delivers. Even the deepest creases and crow's feet are visibly eased away by this dual-action eye treatment, giving you more confident eyes. 100% of patients in clinical trials noticed better skin elasticity. Made with natural ingredients including provitamin B5, Pycnogenol, Green Tea, Vitamin E, and Vitamin C Ester, this anti-aging eye cream is great for over 50s as it gives you a youthful look and it is 100% plastic and carbon neutral.
23. Revision Skincare ​​D·E·J Eye Cream
With a cooling metal applicator, Revision Skincare has thought of everything we need when applying eye cream. This eye cream has amazing results and we would definitely recommend it. Designed specially and clinically tested to treat hooding and droopiness of the eyelids as well as the entire eye area. created with the Dermal-Epidermal Junction (DEJ), a crucial component in skin aging, and includes DEJ-targeting substances. Clinical studies have shown that this product can lessen flexibility loss, sagging of the eyelids, and minimizes wrinkles. It has excellent pre-procedure usage to support skin and improved outcomes, as well as post-procedure use to keep the skin looking refreshed.
24. Eve's Skin Intensive Eye Cream
If you're looking for a little bit of extra care in your routine, look no further, Eve's Skin will give you exactly what you're looking for and more. To minimize the look of puffiness, circles under the eyes, and deep wrinkles around the eye area, use this intensive eye cream. Native Lemon Aspen and Cucumber Oil are used in the formulation to promote calm, rejuvenate, and invigorate tired eyes. For an added bonus, this eye cream has a fresh and citrusy smell that will stay with you all day long.
25. Olay Ultimate Eye Cream
This eye cream makes wrinkles, puffiness, and dark circles less visible and it serves as a light concealer that blends in with most skin tones. By moisturizing skin to improve complexion and texture around the eyes, it will refresh the skin, due to peptides, Vitamin B3, and Olay's color-correcting technology.
Olay is one of our favorite brands as it shows results within weeks and can be found globally, so that you never run out.
26. Pyunkang Yul Black Tea Time Reverse Eye Cream
With this bottle, Pyunkang Yul's eye cream is a piece of art inside and out. With this eye cream, the dreary and drooping eye area receives suppleness and intense crease treatment with fermented black tea and anti-aging substances. Made with peptides which can aid in the growth of new skin cells as well as yeast beta-glucan, shea butter, and macadamia seed oil which provide rich sustenance.
Formulated with mulberry extract which encourages clearer, more radiant skin, and finally, this eye cream utilizes ceramide and three hyaluronic acids to create a robust moisture barrier. This is an incredible anti-aging eye cream that makes you look and feel 10 years younger.
27. Lumin Dark Circle Defense
Lumin offers a clean and simple tub that is perfect for men who like to keep it simple. Designed specifically for men, Lumin offers an incredible eye cream that won't disappoint you. The finest under-eye cream for men should be used every day to reduce the appearance of wrinkles.
With this essential component to your skincare regime, you can reduce the appearance of dark circles, improve weary eyes, puffiness, and combat the early symptoms of aging. Great for every skin type. With regular use, this replenishing eye cream can help your under-eye area look better, regardless of whether you have rough, irritated, or blemished skin.
28. Transformulas Marine Miracle Crème
With a unique shape Transformula's is definitely a brand to look out for. Formulated with four essential ingredients; algae and sea salt extracts, giant sea kelp, and centella asiatica, this formula contains many vitamins and minerals that improve the health of your skin. It is incredibly moisturizing for dull, fatigued skin without having the heaviness or oiliness that you might find in other products. Your skin will become more smooth, healthier, and brighter with regular use. This product is great for anti-aging as thin lines and excessive wrinkles can be diminished by well-known anti-aging components.
29. BeautyCounter Countertime Ultra Renewal Eye Cream
Counter naturally occurring aging processes with this amazing Countertime Ultra Renewal Eye Cream. With the help of this high-quality eye cream, the eye area looks more vibrant and beautiful. For a sleek, freshened appearance, the plant-derived Retinatural Complex and Persian silk tree extract work together to specifically diminish the impression of crow's feet and under-eye circles. We are happy to recommend this environmentally friendly eye cream that can be 100% recycled.
30. Nivea Q10 Anti-Wrinkle Eye Cream
When you get older, you may find that your wrinkles have become more prominent. But now you don't have to worry about that as Nivea has created a formula that targets and fights against unwanted wrinkles. Crow's feet can be lessened and your eye area can be revitalized by using NIVEA Q10 Anti-Wrinkle Firming Eye Cream.
All skin types can benefit from this product's renowned anti-wrinkle activity for the sensitive eye area. The solution rejuvenates skin with a rapidly hydrating appearance and gives it a youthful, healthier appearance. Dual Action Coenzyme Q10, which is 100% skin identical to the one naturally found in your skin, and Creatine are added to this strengthening eye cream. The combination of the ingredients clearly minimizes eye contour wrinkles and noticeably tightens skin. Additionally, the eye care lessens under-eye circles.
31. NeoCutis LUMIÈRE Firm Eye Cream
NeoCutis is a trusted brand that is cruelty-free and contains no harsh chemicals, including parabens or dyes. This product is perfect for anyone who likes to keep it simple, as it is fragrance-free. With this cutting-edge anti-aging product, you can focus elsewhere while allowing this product to work on your delicate eye area.
It will reduce the look of fine lines and wrinkles, crow's feet, inflammation, and under-eye dullness using Human Growth Factors + Proprietary Peptides.
32. Baebody Eye Gel
Are you sick of constantly using creams? Well, we are, which is why this eye gel is exactly what we needed. This product was formulated by dermatologists and is able to be used on both men and women, making it a great, versatile product.
This eye gel can be used on sensitive skin as its formula minimizes redness and itchiness. Containing peptide complex, gotu kola, jojoba oil, Vitamin E, amino acid blend, and matrixyl 3000, this product has many benefits that you will see within weeks.
33. First Aid Beauty Ultra Repair Cream
We love this retro inspired tub, which adds a pop of color that isn't overpowering. Cruelty-free, fragrance-free, and tested by dermatologists, this ultra repair cream is ideal for dry or normal skin types. It is gentle on delicate skin, suited for all skin types, and quickly penetrates to swiftly soothe dry skin. This calming moisturizer, which is made with colloidal oatmeal, leaves skin feeling soft, nourished, and relaxed with just one application.
34. Cetaphil Hydrating Eye Cream Serum With Hyaluronic Acid
With easy and rapid absorption, this product strongly nourishes to enhance brightness. This focused eye cream minimizes dark circles and keeps the eye region looking young and is scientifically proven to be mild on delicate skin.
Suitable for skin that is hypersensitive, it will protect against the five symptoms of skin sensitivity: tightening, dryness, dehydration, stiffness, and a compromised moisture barrier on the skin. Cetaphil is a great all-rounder eye cream if you are looking for a product that offers flexibility and can be used in combination with many facial cleansers and moisturizers.
35. Supergoop Bright-Eyed 100% Mineral Eye Cream SPF 40
If you spend all day in the sun, you need this eye cream. Made with the perfect combination of probiotics, pomegranate, caffeine, green tea extract, South African resurrection plant extract and wild butterfly ginger flower, this product has a sweet fragrance. This SPF 40 daytime eye lotion rapidly brightens the eye region and aids in shielding it from the sun's UV rays.
Since the skin around your eyes is so fragile, UV rays, aging, and discoloration can all affect it more easily. This non-greasy, nourishing eye cream has a luminous pink tinge that brightens weary eyes, prepares the eye region for makeup, and offers non-nano, broad spectrum 100% mineral protection against UV and infrared radiation.