A Look at How Wally's Mills Avenue Liquors Has Endured
It maintains its eccentric energy with a mix of nostalgia and an artistic touch.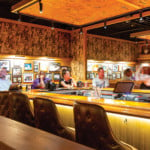 When Wally's Mills Avenue Liquors, the almost-65-year-old dive bar in the Mills 50 District, quietly shut its doors last August, the local response was anything but quiet. Various social media outlets blew up with rumors and theories on what would happen next. We all had our favorite memories of Wally's. Now where would we go for strong drinks and aged wallpaper of partially clothed ladies? And boy, if those ladies could talk! Wally's was full of stories.
After a friend introduced me to my now-husband, Jamie, we randomly ran into each other one night at Wally's. He claimed he didn't know me. (He was lying.) And even if his version of the story is different than mine, that bar will always hold a special place in our hearts.

Wally's has a new façade, but the familiar sign is still there (MARIAH WILD)
But that was Wally's. You never knew what was going to happen once you walked inside. It had the nostalgic feel of the type of bars that were around long before sports bars and craft beer houses hit the scene. If someone asked, "Want to go to Wally's?," there was always a certain glimmer in their eyes. And, of course, you'd say yes.
People of all walks of life saddled up and made conversation. It was a liquor-infused roundtable with a motley crew who just wanted to kick back with a quality "Wally's pour." But it wasn't just about the drinks. There was a certain energy to Wally's.
As soon as it closed, rumor spread about the reopening, and the regulars were rightfully worried. Would it have the same vibe? Would it go from a dark dive bar to an over-the-top Instagram spot? Would they put up a "No Smoking" sign and turn it into a gastropub?
If you talk to one Wally's regular, and the mastermind behind the seven-month renovation, designer Reid Pasternack, it's clear he put his heart and soul into every detail. And thankfully, his clients didn't hesitate to put their projects on hold so he could focus exclusively on Wally's.
"My clients knew how important Wally's was to the community," he says. "We understand that people aren't necessarily happy about someone else coming in and changing their home. I hoped to keep the same Wally's atmosphere that brought people to it for all these years."
So the big question: What's different?
The doors don't open at dawn, but the 11:30 a.m. opening is a pretty good start.
They professionally cleaned the iconic naked lady wallpaper and replaced the damaged sections with pieces from other areas. The leftover strips are in safekeeping for art installments we are sure to see in the future.
If anything, the wallpaper is even more prevalent. When Pasternack discovered artwork featuring a life-like replica of Wally's wallpaper by local artist Maureen Hudas, he arranged to get the original piece. It hangs on the back wall by the restrooms.
The sticker- and graffiti-covered condom dispensers are now works of art. Pasternack moved them from the restroom to their rightful location—a prime spot in the bar.
The back wall of the package store is a fresh coat of Wally's Green and one of the original Wally's signs, "It's a business doing pleasure with you," hangs on the wall.
You can still buy liquor here. The same cases line the walls with the original price stickers found in dusty storage boxes. The scoring on the floor blends into itself, showing off over six decades of footsteps. To preserve the concrete, Pasternack had James Elswick of Soulistic Concrete and Design add a protective coating to ensure it lasts another 60 years.
Hidden behind three layers of paneling were water-damaged walls dating back to the mid-century. Pasternack found an expert in San Francisco who was able to make exact replicas and had new versions created with the same wood and stain.

Wall of memorabilia (MARIAH WILD)
Head to the bar, and you can belly up to the same arm rail and the wear-and-tear of years of spills, water stains and cigarette burns. It's now covered with a gloss finish to preserve its past.
"There's an energy here that draws you in," says Jordan Eichenblatt, creative director at Orange Plane Creative, the local marketing team hired to help with the launch.
They incorporated different items and ideas with a local twist. Swan City Orlando was invited to design Wally's T-shirts, and Food Truck Fridays is on the weekly agenda.
When it comes to Wally's regulars giving feedback on the changes, they haven't been shy about speaking up to the new owner, Minesh Patel, who prefers to work behind the scenes. Thankfully, he listens.
When there were complaints that the glasses were too big, he replaced them with ones that were the original, smaller size.
By popular demand, the jukebox is also coming back.
Wally's Mills Avenue Liquors
1001 N. Mills Ave., Orlando
407-440-2800
wallysonmills.com
When people wanted it darker, they lowered the lighting. And now it's way too dark for Instagram. If you need to get on social media, you can go outside. The clean coat of paint and mid-century modern mural is perfect for a photo opp.
For the skeptics, Wally's does look different. Jamie and I were a little skeptical, too. But the second you walk through the door, briefly blinding everyone with daylight, you notice the welcoming energy is still there.
Behind the bar, the OG bartender Cindy Melchor stands at the helm with a welcoming "Hi, Mama!" It was hard not to get a little choked up when she wrapped her arms around us. The original owner, Walter "Wally" Updike, oversees it all. The urn containing his ashes sits in a prominent cove near the front door.
It's true, there is no smoking. Now you can actually see who is sitting across from you at the U-shaped bar. If you want to get to the other side, you'll still bump into someone along the way—and most likely end up in a conversation.
And that's the Wally's way. There may be fresh paint and new fixtures, but it's that burst of energy that hits you when you walk through the door that makes Wally's feel like home, naked ladies and all.