Jan 18 @ 11:00 am – Jan 19 @ 7:30 pm

11:00 am
John Smoltz, the baseball Hall of Fame pitcher and standout celebrity golfer, will defend his celebrity division title at the 2020 Diamond Resorts Tournament of Champions Presented by Insurance Office of America. The eye-opening competition returns to Tranquilo Golf Course on January 16-19, 2020, at Four Seasons Golf and Sports Club Orlando. To learn more about the tournament and its...
Mar 28 @ 7:00 am – 12:00 pm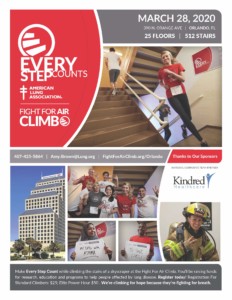 7:00 am
A competitive stair climb event challenging participants to conquer the 25 floors/512 stairs of 390 N. Orange Avenue (formerly known as The Bank of America Center). The Fight For Air Climb is a signature fundraising event of the American Lung Association, raising critically needed funds for research, advocacy, and education surrounding all lung disease. Participants range in age (10+) and...