Mar 28 @ 7:00 am – 12:00 pm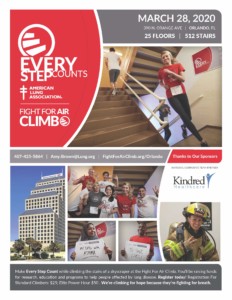 7:00 am
A competitive stair climb event challenging participants to conquer the 25 floors/512 stairs of 390 N. Orange Avenue (formerly known as The Bank of America Center). The Fight For Air Climb is a signature fundraising event of the American Lung Association, raising critically needed funds for research, advocacy, and education surrounding all lung disease. Participants range in age (10+) and...
May 16 @ 8:30 pm – May 17 @ 2:00 am
8:30 pm
Purchase your Tickets, Deluxe Rooms and Sponsorships at http://BlackandWhiteWeekend.com or Facebook. YouTube Video of the 10th Annual Black and White Weekend (The Reunion) in 2019. Click HERE. Special Thanks to our All in And Tent Sponsor Benge Development Corporation, Returning Main Sponsors Todd Speciale with Omnigroup Global, Scott Matthews with ITouchOrlando and Jennifer Yon with IBA Success Magazine. Tickets Are...